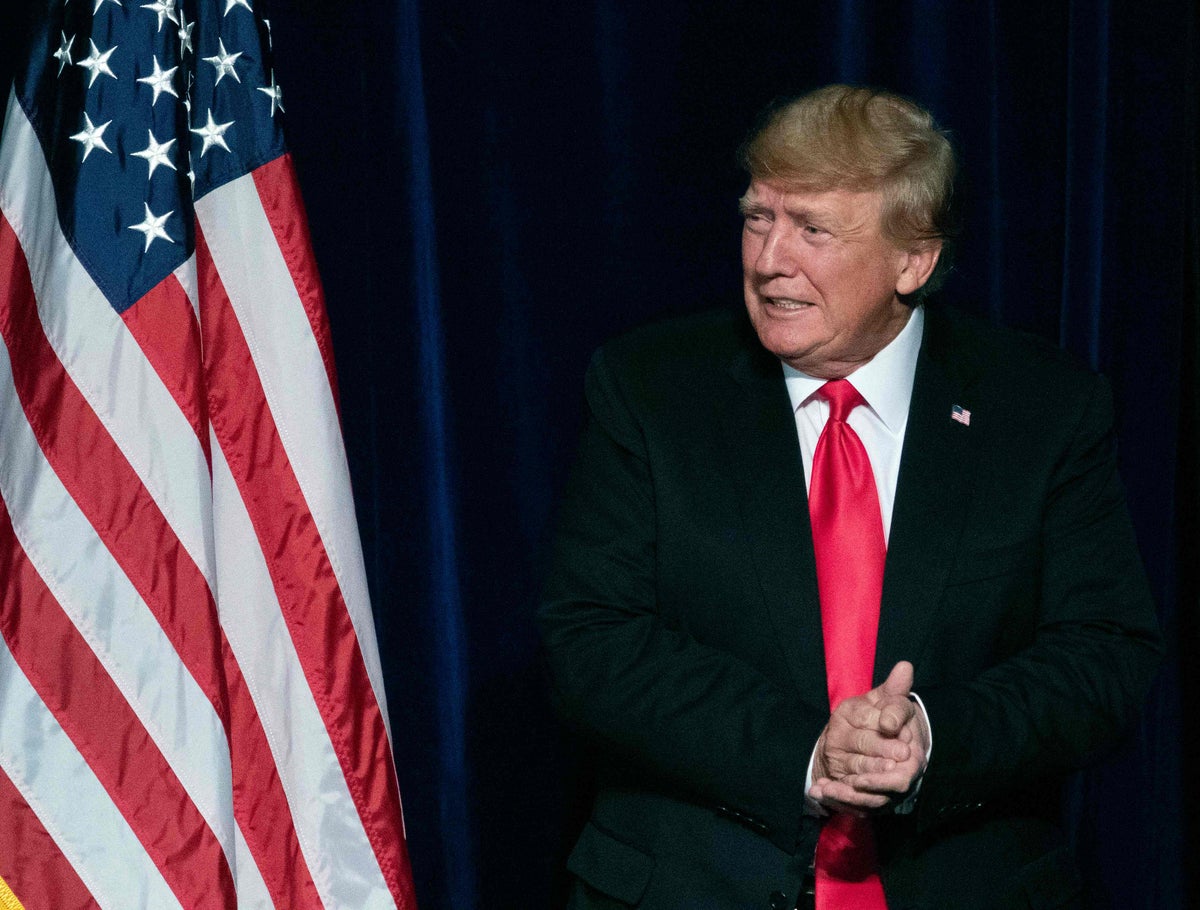 Jared Kushner denies speculation he was Mar-a-Lago "soft"
A new report from the Wall Street Journal claims that FBI agents found papers "lying in unsecured areas" during the search of Mar-a-Lago – contradicting assurances from Donald Trump's team that any sensitive documents at the residence were secured under lock and key.
Meanwhile, President Joe Biden has categorically denied that he received any advance warning from the raid on Mr Trump's Florida property. "None. Zero. Not one single bit," he told a press conference.
Speculation continues as to the identity of the reported source who tipped off the FBI about the continued presence of classified papers in Florida. Jared Kushner, Mr Trump's son-in-law, has denied claims that it was him, singing out Mr Trump's psychologist niece Mary Trump for circulating the idea.
"It's absolutely not true, categorically, in every way," he said. "But I think that's more of a statement of the sad state of the media, where the more outlandish – especially if it includes me – then the media will write about it and create headlines."
1661420434
Trump documentary maker Alex Holder says Eric is scared of Don Jr and his father is 'very insecure'
Trump documentary filmmaker Alex Holder has said that Eric Trump is scared of his older brother Donald Trump Jr.
The man behind the unprecedented documentary took part in an "Ask Me Anything" (AMA) session on Reddit on Tuesday.
He said former President Donald Trump seemed to be "a very insecure man who depends on external worship and can't understand why he doesn't get it. He also wears a huge amount of make up".
"I think he finds it difficult to understand that there are people who actually don't like him. This bothers him a lot. He is fine with people not liking him if he doesn't like them first…but other than that he thinks he should be loved by everyone," Mr Holder added in response to a separate question.
Trump documentary maker Alex Holder says Eric is scared of Don Jr
'Eric is probably least like his father but I say this only because Don Jr and Ivanka are very similar to their old man'
Andrew Naughtie25 August 2022 10:40 am
1661418000
Trump-aligned Herschel Walker branded a hypocrite for attack on opponent Raphael Warnock
Hershel Walker is facing derision in Georgia for trying to paint questions over whether his opponent owns a dog as a sign of dishonesty while he himself has been accused by his own campaign staff of lying to them about, among other things, the fathering of chilren secretly out of wedlock. Mr Walker is known for his public criticism of absentee fathers.
The Trump-aligned Georgia candidate for the US Senate is seen by Republicans nationally as a threat to their efforts to retake the Senate from Democrats, who currently have a razor-thin 51-50 majority counting the tiebreaking vote of Vice President Kamala Harris.
Read more in The Independent from Andrew Naughtie:
Herschel Walker branded a hypocrite for attack on opponent Raphael Warnock
Former NFL star appears to be struggling in swing state race despite enjoying Donald Trump's backing
John Bowden25 August 2022 10:00 am
1661414400
John Fetterman responds to vicious attack from Trump-backed candidate about his stroke
Pennsylvania's Lieutenant Governor John Fetterman rebuked his opponent's campaign for what he insinuated was a classless shot at his personal health struggles made by desperate political operatives.
Trump-backed Dr Mehmet Oz's spokesperson was roundly criticized on Twitter after she issued a statement suggesting that a recent stroke Mr Fetterman suffered before returning to the campaign trail was due to him having never eaten a vegetable. The staffer was pilloried for the callousness of the remark as well as Dr Oz's own history of pushing pseudoscience on his popular TV show.
Mr Fetterman replied on Twitter, writing: "I had a stroke. I survived it. I'm truly so grateful to still be here today. I know politics can be nasty, but even then, I could *never* imagine ridiculing someone for their health challenges."
Read more in The Independent from Maroosha Muzaffar:
Fetterman hits back at Dr Oz for mocking him over his stroke
There was a backlash against Mehmet Oz, with many saying 'PA deserves better than Oz'
John Bowden25 August 2022 09:00
1661410800
Rough news for Republicans as new polls indicate that Joe Biden's approval rating is rebounding as gas prices and other inflationary pressure slaughter across the country.
The news has some analysts questioning if the president's party can hold on to the US Senate — and potentially even the House of Representatives — in the fall's midterm elections should current trends hold steady.
Read more from The Independent's Andrew Feinberg:
Biden approval rating hits highest point since June in new poll
President's approval numbers are rising amid a string of legislative successes
John Bowden25 August 2022 08:00
1661407200
Trump-aligned Republican candidates allege vote fraud after losing primaries in New York and Florida
Taking the page out of their dear leader's playbook, far-right GOP candidates like Laura Loomer are refusing to concede after defeats in Tuesday evening's primary elections.
Political and civics experts have been warning since November 2020 that the new strategy on the far right going forward will be to sow doubt in the legitimacy of US elections and use the threat of violence to try and get their way.
One candidate in Tuesday's elections celebrated alongside well-known white supremacist Nick Fuentes and vowed to "hostile takeover" of the GOP as she was defeated on Tuesday.
Read more in The Independent from Andrew Naughtie:
Extreme GOP candidates losing allege voter fraud after primaries
Laura Loomer and Carl Paladino both came within sight of victory despite myriad racist and violent statements
John Bowden25 August 2022 07:00
1661403600
Biden names new Secret Service director amid Jan. 6 scrutiny
Joe Biden has named a new director of the US Secret Service amid claims that the agency failed to cooperate with an investigation into January 6 being headed up by Congress.
The president on Wednesday named Kim Cheatle, a veteran Secret Service official, to the position of director as the agency seeks to explain why text messages sent by agents on January 6 were deleted after the agency was explicitly instructed by the Department of Homeland Security's Office of Inspector General to preserve them.
Read more in the Associated Press:
Biden names new Secret Service director amid Jan. 6 scrutiny
President Joe Biden has named Kim Cheatle, a veteran Secret Service officer, as the agency's next director
John Bowden25 August 2022 06:00
1661401383
Biden kicks off midterm rally in Maryland
Joe Biden will begin rallying in Maryland's Rockville on Thursday to turn legislative accomplishments into political energy.
The event, in the safely Democratic Washington suburb of Rockville, Maryland, is meant to ease Mr Biden into what White House aides say will be an aggressive season of championing his policy victories and aiding his party's candidates.
It comes as Democrats have seen their political hopes rebound in recent months amid a legacy-defining burst of action by Mr Biden and Congress.
John Anzalone, Mr Biden's pollster, said Democrats are "in a better position to compete because Joe Biden put us there."
"It doesn't mean that the wind's at our back," he added. "But we have more of a breeze than what felt like a gale hurricane in our face."
Shweta Sharma25 August 2022 05:23
1661400000
A government watchdog group has successfully sued for the memo that led to the Justice Department clearing Donald Trump of criminal wrongdoing in the Russia investigation.
The document, prepared for Attorney General William Barr by attorneys working on the case, illuminates in particular the role of two Justice Department officials in determining that the DoJ would clear Mr Trump's on accusations of obstructing justice even though Robert Mueller had declined to do the same .
Read more in the Associated Press:
Memo sheds light on decision to clear Trump in Russia probe
Justice Department officials who evaluated then-President Donald Trump's actions during the Russia investigation concluded that nothing he did, including firing the FBI director, rose to the level of obstruction of justice
John Bowden25 August 2022 05:00
1661399819
Trump calls for Mitch McConnell to be booted as GOP leader
Donald Trump yesterday called on Republicans to "immediately" out Senator Mitch McConnel from his post of Senate minority leader, accusing him of giving "trillions of dollars" to the "Radical Left".
Mr Trump said, citing a story from The Federalist, that Mr McConnel and his wife Elaine Chao allegedly have ties to China and called him a "pawn for Democrats".
"Mitch McConnell is not an Opposition Leader, he is a pawn for the Democrats to get whatever they want," Mr Trump said in his statement. "He is afraid of them, and he will not do what has to be done. A new Republican Leader in the Senate should be picked immediately!"
Mr Trump has unleashed attacks on Mr McConnel, who he calls "old crow" and his wife after the senator leader called out the former president for his role in 6 January 2021 attack on US Capitol.
He said Mr McConnel allegedly gave "Radical Left the Trillions and Trillions of Dollars that they constantly DEMAND" and blamed him for failing to stop the passage of the landmark tax, climate and healthcare law known as the Inflation Reduction Act.
Shweta Sharma25 August 2022 04:56
1661398769
Trump is exacerbating GOP's mounting fundraising troubles, says former senator
Former US senator from Missouri Claire McCaskill has said that all the "grassroots money is all going to Donald Trump" as his loyalists have directed all the money towards funding his potential 2024 run for presidential elections.
Mr McCaskill said it is making it harder for senate Republicans to raise money for the upcoming midterm elections.
"There's a whole lot of people that became active in my state for the first time around Donald Trump," said Mr McCaskill on MSNBC.
"They remain slavishly loyal to him… one of the reasons the Republicans are struggling in campaign donations, candidate donations, is the grassroots money is all going to Trump. Not to Marco Rubio or Dr Oz or JD Vance," he added, referring to key senate candidates.
"When they are putting $20m of dark money into help, you know, in Ohio, you know they are very worried."
Shweta Sharma25 August 2022 04:39