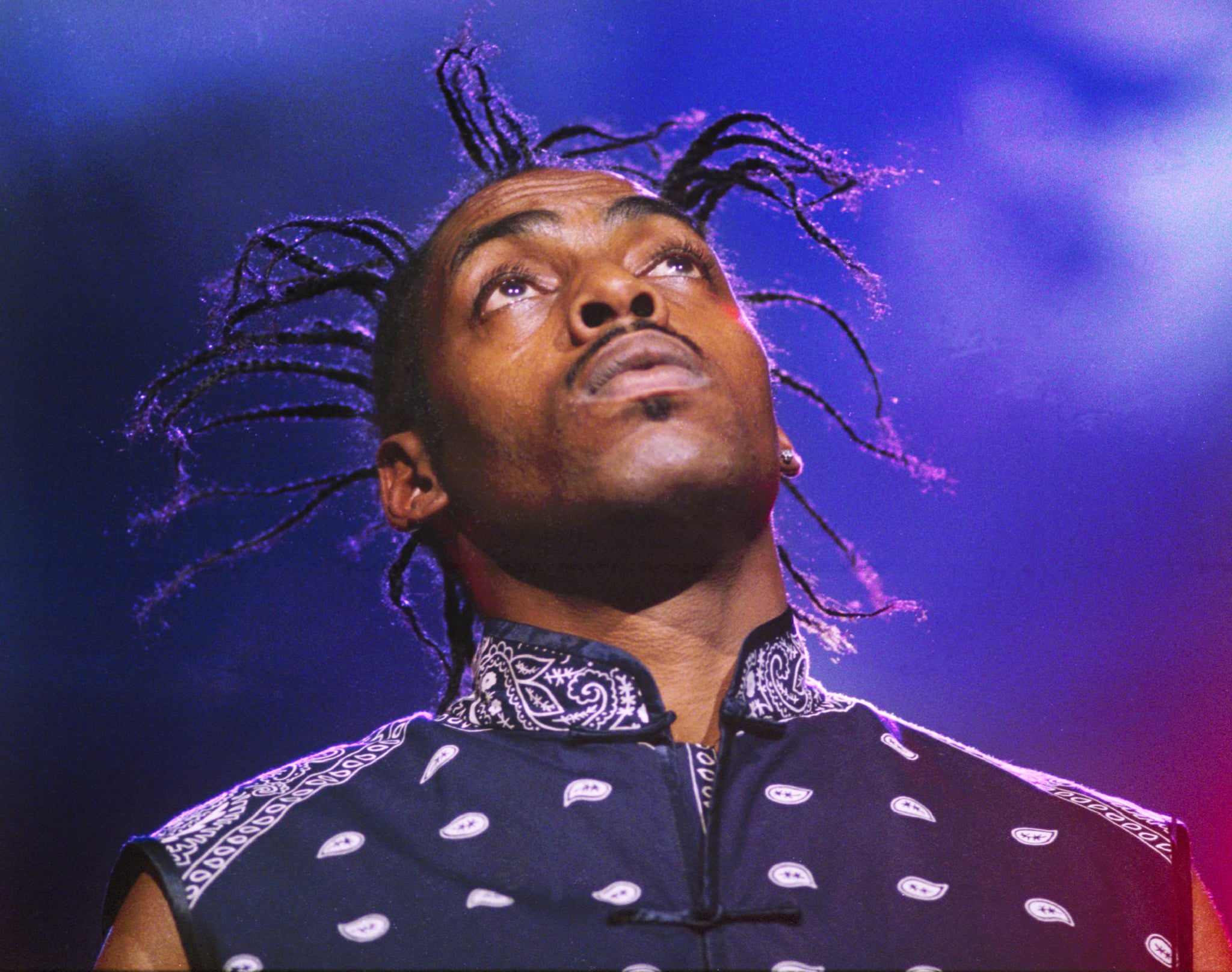 Image Source: Getty / Rob Verhorst
Rapper Coolio died at the age of 59 on Wednesday, his manager confirmed to The New York Times. The rep did not immediately respond to POPSUGAR's request for comment. The artist, who achieved massive success in the 1990s, was perhaps best known for his song "Gangsta's Paradise."
From the moment Coolio first heard producer Doug Rasheed playing around with an early version of the song in 1995, the Compton-raised rapper knew it was meant for him. He had been visiting his manager Paul Stewart's house in Hollywood to grab a check, he said on a 2016 episode of "Hot Ones," when he heard the song playing in another room. "I went to Doug, said, 'Yo! What's this?' He said, 'It's just a song we're working on.' And immediately I said, 'It's mine.' Just like that," Coolio recalled.
Stewart and Rasheed were roommates, but until he heard "Gangsta's Paradise," Coolio hadn't been interested in working with the producer. "Coolio never liked my beats; he was always like, 'Aw man, I don't like your drums!'" Rasheed told Rolling Stone in 2015.
As it turned out, the song was, in fact, meant for Coolio. "Gangsta's Paradise" began as a remix of Stevie Wonder's "Pastime Paradise," and Rasheed brought singer LV in to work on the vocals. LV changed the refrain to "Gangsta's Paradise" and thought of Coolio for the verses.
After hearing it, Coolio freestyled the unforgettable first line, "As I walk through the valley of the shadow of death / I take a look at my life, and realize there's nothing left." From there, the song practically wrote itself. "I never picked up my pen. I wrote 'Gangsta's Paradise' out like I already knew it. It was divine intervention," Coolio told Rolling Stone. "I didn't even write 'Gangsta's Paradise.' 'Gangsta's Paradise' wrote me. I was the instrument. The song was the entity."
Getting Wonder to sign off on the final product took a bit longer. "When Stevie heard it, he was like, 'No, no way. I'm not letting my song be used in some gangster song,'" Coolio said. Fortunately, his wife knew Wonder's brother — "I guess he had been trying to tap that for years," he said — and they were able to set up a meeting. "His only stipulation was that I had to take the curse words out."
"Dangerous Minds" and Music Video With Michelle Pfeiffer
"Gangsta's Paradise" was released in 1995 on the soundtrack of Michelle Pfeiffer's film "Dangerous Minds." Coolio wasn't a massive fan of the current movie. "I hate those kinds of movies where, you know, the great white hope comes into the inner-city neighborhood and saves the little children — 'Ooh la la, hey Santa Claus!' or whatever, all those kinds of things put it in play," he said to Yahoo Music in 2020. "Those kinds of moments happen very few and far between. It's not that many people that care about each other [in real life]."
His song played a critical part in the success of the feature, which had been receiving poor reviews before its addition. "Disney put 'Gangsta's Paradise' in the movie, they started testing it again, and the test scores went from like 40 to 45 percent to 75 percent — 75 percent of the people all of a sudden liked this movie," Coolio told Rolling Stone . "That's when Disney started the marketing; they said, 'We've gotta shoot a video!'"
The music video featured Pfeiffer and Coolio staring each other down, interspersed with clips from the film. Coolio was impressed with Pfeiffer's performance on set. "They did her up dela real quick and she nailed it. I mean, she got it. It was easy for her. It was as easy for her as it was for me, I think," he told Yahoo. The video became an MTV sensation, eventually becoming the bestselling single in America in 1995, per the BBC.
"Weird Al" Yankovic and "Amish Paradise"
The song's massive success inspired a number of covers and tributes — including one by Weird Al Yankovic. "Once I started toying around with 'Gangsta's Paradise,' the Amish concept hit me pretty quickly — I don't think I seriously considered any other options," Yankovic told Rolling Stone. "'Amish Paradise' seemed the perfect irony."
At the time, Coolio didn't approve of the parody — but he later retracted his criticism. "I have to say, that was probably one of the least smart things I've done over the years," he told Rolling Stone. "I should have never been upset about that; I should have embraced it like everybody else did. Michael Jackson never got mad at him; Prince never got mad at him," he said. "It was actually years later before I realized how stupid that was of me [laughs]. But hey, you live and you learn." Fortunately, the story had a happy ending. "Me and Al, we've been good for a long time now," he said.
After Coolio's death, Yankovic took to social media to share a picture of the pair embracing. He joined a number of other celebrities who have paid tribute to the late star, including Pfeiffer, Snoop Dogg, Questlove, and many more. "Heartbroken to hear of the passing of the gifted artist @coolio. A life cut entirely too short," Pfeiffer wrote in her tribute to her. "As some of you may know I was lucky enough to work with him on Dangerous Minds in 1995. He won a Grammy for his brilliant song on the soundtrack – which I think was the reason our film saw so much success. I remember him being nothing but gracious. 30 years later I still get chills when I hear the song . . . Rest in Power, Artis Leon Ivey Jr. ❤️."
"Gangstas paradise," Snoop Dogg wrote simply in his commemorative post. "RIP"
"Gangsta's Paradise" remains an integral part of Coolio's legacy and hip-hop history.