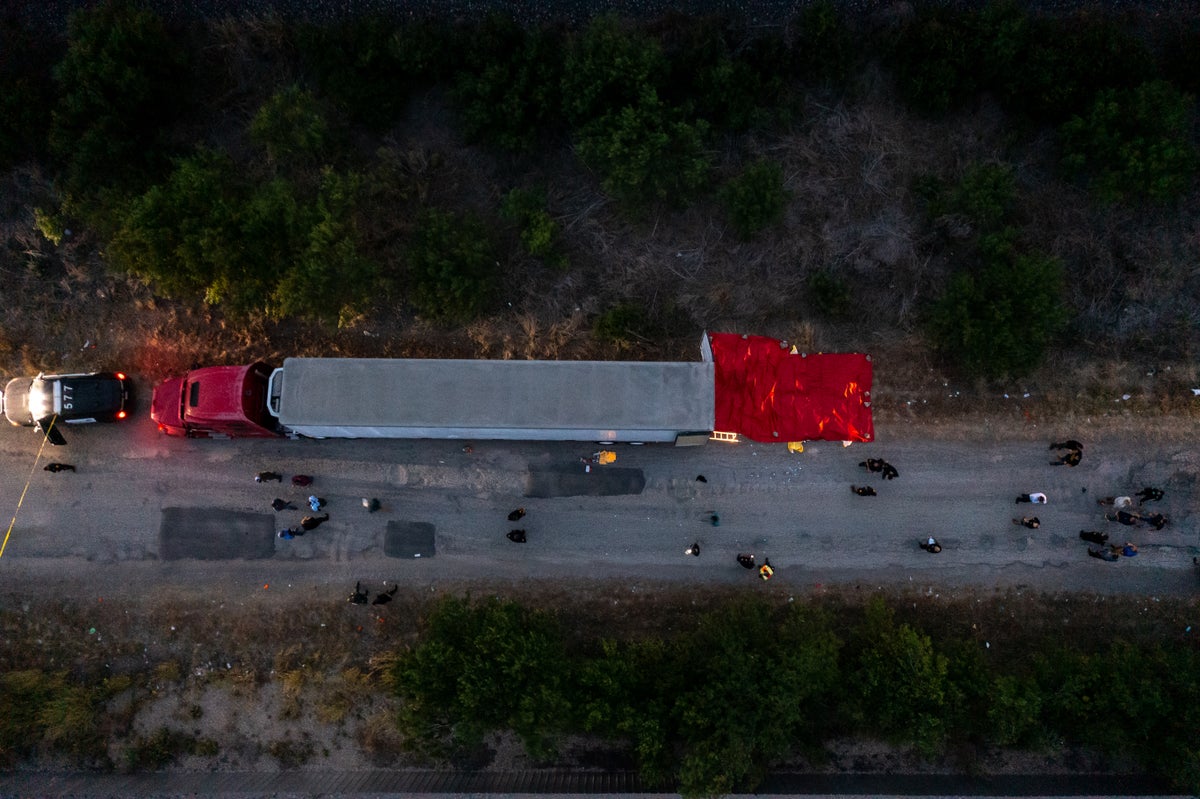 At least 46 bodies found in trailer, San Antonio officials say
At least 53 people were discovered dead, "stacked" inside a truck's tractor-trailer near San Antonio, Texas, in what authorities believe may be the the deadliest human-trafficking incident in modern US history.
Another 16 people, including four children, were taken to local hospitals in varying conditions, according to officials. Police have taken three people into custody. The US Department of Homeland Security is investigating.
A city worker heard a cry for help from the abandoned truck before discovering the gruesome scene on Monday, according to San Antonio police chief William McManus.
On Tuesday, President Joe Biden called the "tragic loss of life" in Texas "horrifying and heartbreaking" while San Antonio's mayor Ron Nirenberg called it a "horrific human tragedy".
Mexico foreign minister Marcelo Ebrard confirmed that the nationalities of some of the victims who died inside the triple-digit-degree truck had been identified. The victims include 22 Mexicans, seven Guatemalans and two Hondurans.
Texas Gov Greg Abbott is set to hold a press conference at the southern border on Wednesday afternoon, where his office says he plans to address the "ongoing response to President Biden's growing border crisis".
1656518657
Death toll climbs to 53 after two more people die from Texas tractor-trailer incident
Two more migrants were reported to have died on Wednesday, raising the death count to 53.
Officials had already begun calling the Texas tractor-trailer incident the deadliest smuggling event to take place on US soil, a statement that was tragically supported more after Wednesday afternoon's update.
Johanna Chisholm29 June 2022 17:04
1656517715
Dispatch calls between reveal new details from first responders at the scene
At around 5:50pm on Monday, a dispatch call was placed between first responders and the San Antonio Fire Department, according to local ABC News affiliate KSAT.
"Got an 18-wheeler, looks to be about 60 people that are inside. Looks like quite a few of them are already deceased," a crew member from San Antonio Fire Department's Engine 52, one of the first crews to reach the scene, said. "We're gonna start sorting through the ones that are currently breathing. None of them are able to talk as of yet, but we do have a lot of snoring respirations. I can count at least 10 that are that have snoring respirations," the caller said, noting that the "snoring respirations" could be a sign of someone struggling for air.
"I'm counting right now about 12 that are breathing. We are trying to attempt to take the ones that are breathing off of the truck right now," the emergency responder stated.
Later, another emergency responder can be heard making a request over the radio for more medics and supplies, as the number of victims and patients requiring emergency treatment began to grow.
"Do you have any backboards or anything that would help us slide the patients off the 18-wheeler, bring them please," the first responder says over the radio. "Even some tarp, anything that will help bring the patients out."
Johanna Chisholm29 June 2022 16:48
1656514207
Texas governor to hold presser on 'Biden's growing border crisis'
Texas Gov Greg Abbott is set to appear along the state's southern border with Mexico, where his office says the Republican plans to address the Biden administration's response to the country's "growing border crisis".
On Tuesday, just hours after 51 people had been found trapped inside a sweltering semitruck, marking what officials are calling the deadliest smuggling incident in US history, the Texas governor didn't miss an opportunity to take a shot at the Democratic president's migration policies.
"They are a result of his deadly open border policies," tweeted Gov Abbott, laying the blame of the migrants' deaths in San Antonio at the president's feet.
In a statement on Tuesday, the commander-in-chief mourned the "tragic loss of human life" as "horrifying and heartbreaking", before vowing to pursue human traffickers and smugglers.
"Exploiting vulnerable individuals for profit is shameful, as is political grandstanding around tragedy, and my administration will continue to do everything possible to stop human smugglers and traffickers from taking advantage of people who are seeking to enter the United States between ports of entry," Mr Biden said in a statement.
Mr Abbott is expected to begin his address at 2pm CT/3pm ET.
Johanna Chisholm29 June 2022 15:50
1656512984
'51 flowers': Residents and activists hold vigil to commemorate the dead migrants
Carlos Eduardo Espina, a 23-year-old nonprofit director, activist, and aspiring lawyer, helped organise a vigil in Pearsall Park in San Antonio, closeby to where 51 bodies were uncovered from a sweltering tractor-trailer on Monday night.
The Tuesday night memorial was attended by Mr Espina, who shared video footage of the flower-laying ceremony on his social media channels, alongside at least 50 other local residents wanting to pay their respects to the dozens of people who had died in what's being descried as the deadliest smuggling incident in US history.
"I'm heartbroken because it's a tragedy, but at the same time I wasn't surprised," Mr Espina, who was born in Montevideo to a Uruguayan father and a Mexican mother, but immigrated to Texas when he was five years old, told the Austin American-Statesman. "It's devastating to see that this continues to happen and understand that this is going to continue to happen if there are no changes to the politics in Latin America and here in the United States."
The 23-year-old describes himself as an activist on his website who works to uplift the immigrant community through social media content, community organising, and charitable causes. On Tuesday night, that activism took the form of laying 51 long-stem red roses on the ground at the park to pay tribute, and leave a physical reminder, of the 51 people who had their lives tragically cut short this week.
"Leaving flowers for each of the 51 deceased migrants in San Antonio," the caption to the video read, while the young migrant activist slowly counted out each rose – in Spanish – to 51.
Johanna Chisholm29 June 2022 15:29
1656509984
ICYMI: Two Mexican citizens charged with illegal weapons possession
Two men allegeldy living in the US illegally have been charged for illegally possessing weapons in connection with the deaths of 51 people believed to be migrants in a tractor-trailer in San Antonio.
Federal prosecutors have charged Juan Claudio D'Luna-Mendez and Juan Francisco D'Luna-Bilbao, both Mexican citizens, with "possession of a weapon by an alien illegally in the US."
Prosecutors said the truck was registered to an address in the city. According to the criminal complaint filed in San Antonio federal court, a gun was also uncovered in the centre console of the truck.
There appears to be no other connection between the two men and the migrant deaths.
The third person in custody, according to the Associated Press, is the driver of the truck, Rep Henry Cuellar told the news agency. It was unclear if the third man, who has not been identified, had been charged.
Johanna Chisholm29 June 2022 14:39
1656508724
More than a dozen survivors remain hospitalised
On Monday night, first responders pulled 16 people from inside the truck who were still alive and conscious, including four minors, San Antonio Fire Chief Charles Hood told reporters.
These survivors were then rushed to San Antonio-area hospitals to be treated for various heat-related conditions. Fox 6 News reported that at least a dozen of those people, "including children", who were initially taken to hospital on Monday remain there receiving treatment as of Wednesday morning.
Johanna Chisholm29 June 2022 14:18
1656506684
ICYMI: Woman wrongly named as victim of San Antonio trailer tragedy after ID stolen
Haneydi Jazmin Antonio Guzmán informed friends and family that she was "fine by the grace of God" on her Facebook page.
"Do not believe anything, this is a lie, that credential [her voter ID], it was stolen a year ago," she said after media reports named her as one of the survivors of the trailer tragedy.
Ms Antonio Guzmán, from Escuintla in Guatemala, said she was not the person who was hospitalised and clarified that her ID – found on one person in the trailer tragedy – was stolen from her a year ago.
Mistaken identity is just one possible hurdle that authorities face in attempting to ID all 51 victims, a challenge that officials have elsewhere described as being a "tedious, sad, difficult process".
More than a day after the horrifying discovery, few identities of the victims have been made public.
Though by Tuesday afternoon medical examiners had potentially identified 34 of the victims, those identities have yet to be confirmed as Bexar County Commissioner Rebeca Clay-Flores, who represents the district where the truck was abandoned, said there needs to be additional steps taken, such as fingerprinting.
Read the full report from The Independent's Maroosha Muzaffar below:
Johanna Chisholm29 June 2022 13:44
1656504945
The deadliest smuggling incident in US history, officials confirm
Of the 51 people who died after being discovered inside a tractor-trailer outside San Antonio on Monday night, the devastating event is being marked as likely the deadliest smuggling incident to occur on US soil in history.
Mexican Foreign Secretary Marcelo Ebrard tweeted Tuesday that out of the 51 dead migrants, 22 were from Mexico, seven were from Guatemala, and two were from Honduras. The remaining deceased are still being identified. Details about the dead are scant, but officials have so far confirmed that there were 39 men and 12 women.
Many more who survived the near triple-digit-degree stifling temperatures inside the semitruck on Monday are still being treated at San Antonio-area hospitals for heat-related injuries.
USA Today reported that the death toll from the smuggling incident, according to Craig Larrabee, acting special agent in charge of Homeland Security Investigations in San Antonio, was the highest the agency had ever recorded in the country for a trafficking incident.
The International Organization for Migration, which is part of the United Nations, said 651 people died attempting to cross the US- Mexico border in 2021 — the largest number since 2014.
Johanna Chisholm29 June 2022 13:15
1656500144
'It's a tedious, tedious, sad, difficult process': A slow effort to ID victims in San Antonio
Victims have been found with no identification documents at all and in one case a stolen ID. Remote villages lack phone service to reach family members and determine the whereabouts of missing migrants. Fingerprint data has to be shared and matched by different governments.
More than a day after the discovery of 51 dead migrants in a stifling trailer in San Antonio, few identities of the victims have been made public, illustrating the challenges authorities face in tracing people who cross borders clandestinely.
By Tuesday afternoon, medical examiners had potentially identified 34 of the victims, said Bexar County Commissioner Rebeca Clay-Flores, who represents the district where the truck was abandoned. Those identities were not yet confirmed pending additional steps, such as fingerprints, and she described it as a challenge with no timeline on when the process might be finished.
"It's a tedious, tedious, sad, difficult process," she said.
Johanna Chisholm29 June 2022 11:55
1656495503
ICYMI: Biden calls migrant deaths 'horrifying and heartbreaking'
President Joe Biden said Tuesday that the deaths of migrants who were in the back of a tractor-trailer in Texas was "horrifying and heartbreaking."
"While we are still learning all the facts about what happened and the Department of Homeland Security has the lead for the investigation, initial reports are that this tragedy was caused by smugglers or human traffickers who have no regard for the lives they endanger and exploit to make a profit," he said in a statement shortly after arriving in Spain on the second stop of a trip in Europe.
Biden added, "Exploiting vulnerable individuals for profit is shameful, as is political grandstanding around tragedy, and my administration will continue to do everything possible to stop human smugglers and traffickers from taking advantage of people who are seeking to enter the United States between ports of entry."
Johanna Chisholm29 June 2022 10:38