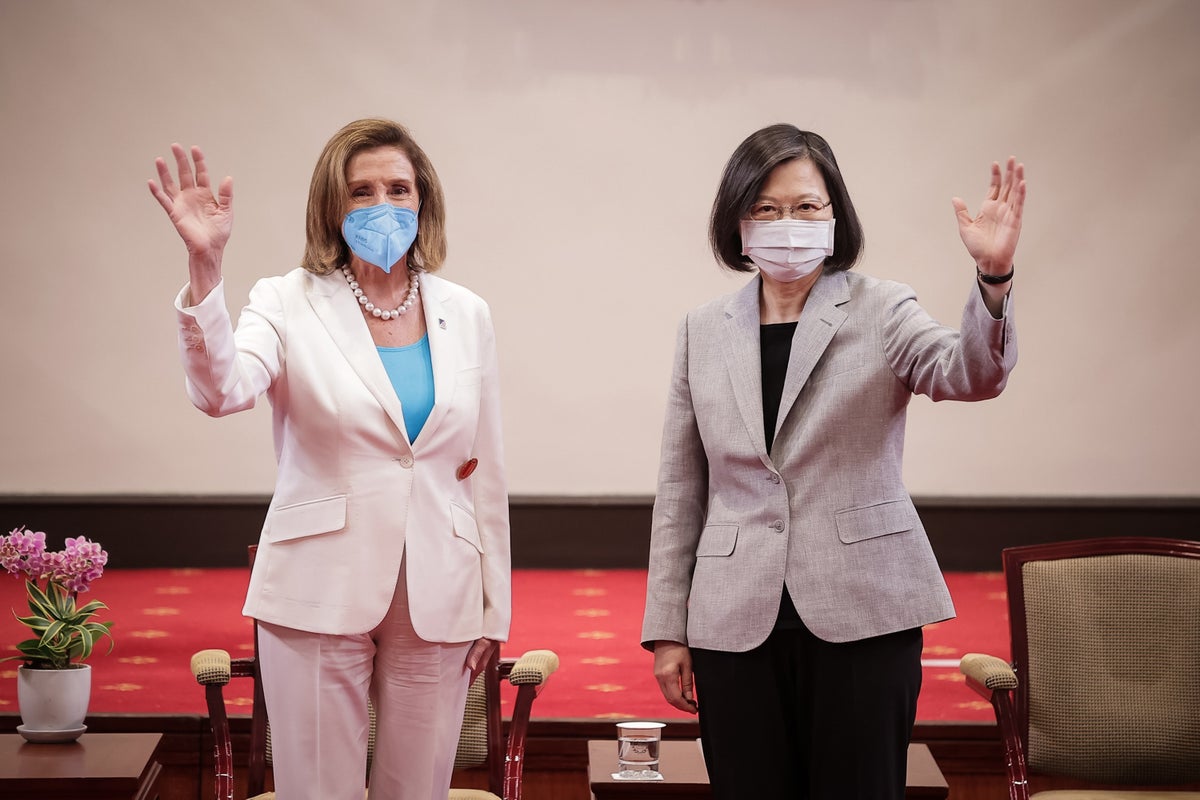 Nancy Pelosi sends 'unequivocal message' that 'America stands with Taiwan'
US House speaker Nancy Pelosi left Taiwan on a US Air Force jet on Wednesday evening, concluding a historic and high-stakes visit that drew a slew of responses from China. Her her next stop her is South Korea.
Beijing warned of "punishing" those who offend it, while Chinese state media called the speaker's trip an "opening salvo of war".
China says it will hold almost a week of military exercises that include live-fire drills in six zones surrounding Taiwan, which the island has dubbed a "blockade". Earlier, it imposed trade restrictions on some food items and construction materials.
Meanwhile, Russia backed China's assertion that the trip was a deliberate attempt by Washington to irritate Beijing, while a Kremlin spokesperson said that the tension created from Ms Pelosi's trip to Taiwan "should not be underestimated."
Ms Pelosi was awarded Taiwan's highest civilian award during her meeting with the Taiwanese president earlier today, where she reaffirmed US support for democracy on the contested island.
"We will not abandon our commitment to Taiwan and we are proud of our enduring friendship," Ms Pelosi said in an address.
1659582038
ICYMI: Nancy Pelosi leaves Taiwan after highly controversial visit angers China
US House speaker Nancy Pelosi wrapped up her highly-controversial, historic visit to Taiwan on Wednesday amid massive criticism from China.
Ms Pelosi is the first highest-ranking American official in 25 years to visit Taiwan despite strong warnings from China. In fact, China had openly criticized her visit with Chinese state-owned media calling the trip an "opening salvo of war".
But she had said that she and other members of Congress were visiting Taiwan to show they "will not abandon their commitment" to the self-governing island.
Maroosha Muzaffar has the details.
Nancy Pelosi leaves Taiwan after highly controversial visit
China is trying to intimidate Taiwan by imposing trade restrictions, sending military jets near Taiwan and has summoned the American envoy in Beijing to lodge a stern protest against Ms Pelosi's visit
Josh Marcus4 August 2022 04:00
1659578438
More major geopolitical news out of the Senate
Nancy Pelosi's Asia trip isn't the only thing shaking up the world stage.
The US Senate on Wednesday voted overwhelmingly to give its' assent to making Finland and Sweden the 31st and 32nd members of the North Atlantic Treaty Organization, just under three months after President Joe Biden recommended that both nations be allowed to join the 73-year- old defensive alliance.
The vast majority of senators — 48 Democrats and 48 Republicans — voted in favor of both nations' accession to Nato, easily overcoming the two-thirds (67 votes) majority required to ratify the instrument giving American support to the two potential Nato members. Each of the 30 current member nations must agree before any new countries can join the alliance.
Just a single Republican, Senator Josh Hawley of Missouri voted against the expansion. Mr Hawley had previously announced that he would oppose allowing Finland and Sweden to join Nato because the US would be obligated to defend them from attack under Article V of the North Atlantic Treaty. Nato members have only invoked Article V just once before: in 2001, after the September 11 terrorist attacks on New York and Washington.
Andrew Feinberg has more.
US Senate votes 95-1 to allow Finland and Sweden to join Nato
Finland and Sweden will be the 31st and 32nd members of Nato
Josh Marcus4 August 2022 03:00
1659574838
The other Pelosi controversy
As much of the world was focused on Nancy Pelosi's trip through Asia, her husband Paul quietly pleaded not guilty on Wednesday to DUI charges, stemming from a May accident in Napa, California.
Here's more background about the case against Mr Pelosi.
Nancy Pelosi's husband charged with DUI in California
Paul Pelosi, the husband of Speaker of the House Nancy Pelosi, has been charged with driving under the influence by prosecutors in Northern California
Josh Marcus4 August 2022 02:00
1659573638
Watch: Archival footage shows Nancy Pelosi unfurl pro-democracy banner in Tiananmen Square
In 1991, Nancy Pelosi was part of a congressional delegation that visited China.
Standing in Tiananmen Square, where two years earlier the Chinese government had massacred pro-democracy demonstrators, the group unfurled a banner that read, "TO THOSE WHO DIED FOR DEMOCRACY IN CHINA."
"I felt like that was such a courageous and also formative, I would say, experience from her," Samuel Chu, whose father Reverend Chu Yiu-ming gave the representatives the banner, told The Washington Post on Tuesday. "I think that that, in a way, was a foundational piece to the way that she had not only dealt with China, and human rights, but I think across the board."
Watch video of the historic gesture below.
Josh Marcus4 August 2022 01:40
1659572438
Japan is 'concerned' about Chinese military drills amid Pelosi Taiwan trip
US ally Japan is alarmed about China's plans to conduct live fire exercises around Taiwan amid House Speaker Nancy Pelosi's controversial Asia tour.
"We are concerned that Beijing has announced various military activities," a Japanese official told newsweek. "Moreover, the area that China announced for its military drills includes Japan's EEZ [Exclusive Economic Zone]."
Dave Harding has more information about what China is planning.
Josh Marcus4 August 2022 01:20
1659571238
Nearly 3 million people tracked Pelosi flight to Taiwan, most ever
A whopping 2.9 million people tracked some portion of Nancy Pelosi's flight to Taiwan, the most in the history of online flight tracking company Flightradar2, CNN reports.
"An unprecedented, sustained interest in this particular flight led to extremely heavy load on Flightradar24 infrastructure," the aviation data company wrote on its blog. "Our teams immediately began efforts to maintain the stability of our services. Unfortunately, due to the volume of users, it was necessary to deploy our waiting room functionality, which meters access to Flightradar24 for non-subscribers."
Josh Marcus4 August 2022 01:00
1659570038
Pelosi's Taiwan trip leaves Asian nations anxious about what happens next
Nancy Pelosi may have left Taiwan, but the impact of her visit will linger.
According to diplomats, many are nervous about what China will do next. The rising world power won't want to let what it views as an incursion into its domain of the island nation go unchallenged. However, in the words of one Singaporean diplomat, China "doesn't want to start World War III" either
"What countries in this region know is that China cannot do nothing — it will look weak…China has no choice but to react," Singaporean diplomat and academic Kishore Mahbubani told NPR, adding, "at the same time, China doesn' don't want to start World War III."
A number of embassies in the region have urged restraint.
The Philippines has asked both the US and China to avoid "any miscalculation and further escalation of tensions."
Meanwhile, Indonesia is calling on "all parties to refrain from provocative actions that may worsen the situation."
Josh Marcus4 August 2022 00:40
1659568212
What Pelosi's Taiwan trip looks like on Weibo
Nancy Pelosi's Taiwan trip has provoked a wide range of opinions in the US, China, and beyond.
On Weibo, the popular Chinese social media app, some users rallied behind the Chinese government perspective.
"Pelosi has inaugurated a great era that naturally belongs to us," read one popular comment. "We will take this opportunity to carry out sea and air patrols around Taiwan without any hindrance so they steadily become normalized, and unification will draw closer and closer."
"The Liberation Army is clearly training in fully blocking the island Taiwan," another popular hashtag said.
Josh Marcus4 August 2022 00:10
1659567458
What's it like to travel through Taiwan
What's it like to visit Taiwan? Here's a tantalizing excerpt from Sally Howard.
I ate featherlight dumplings at atmospheric night markets; I poked about gilded Buddhist temples that were thick with the aroma of sandalwood incense; I enjoyed oolong ceremonies in 16th century teahouses where I could almost hear the bustle of Ming dynasty merchants; and I trekked through the eye wateringly sublime Taiwanese countryside. Here, marble gorges plunge into blue-green rivers, and fissures in the earth's crust bubble with the waters that supply Taiwan's 130 hot springs (ideal for soothing trekkers' muscles, once you get a grip on hot spring etiquette).
Sounds pretty good to us!
Check out her full account.
Still off-limits: Why I can't wait to get back to Taiwan
Sally Howard fell hard for this east Asian gem, with its spectacular scenery, top-notch seafood and pop culture eccentricities
Josh Marcus3 August 2022 23:57
1659566258
Pelosi suggests Chinese criticism of Taiwan trip is sexist
Nancy Pelosi has suggested China's furious response to her trip to Taiwan may be sexist.
In a joint press conference with the Taiwanese president Tsai Ing-wen on Wednesday, Ms Pelosi remarked that recent visits by senior US male lawmakers hadn't provoked the bluster and threats seen in recent days.
"I think they made a big fuss because I'm Speaker I guess," she said. "I don't know if that was a reason or an excuse, because they didn't say anything when the men came."
Beijing warned that the US was "playing with fire" and launched live-fire drills as Ms Pelosi touched down in Taiwan on Tuesday night, portraying the House Speaker's visit as an affront to its ambitions to "reunify" with Taiwan.
Bevan Hurley is following this story for The Independent.
Pelosi suggests Chinese criticism of Taiwan trip is sexist
The House Speaker says China made a "big fuss" about her visit, but "they didn't say anything when the men came"
Josh Marcus3 August 2022 23:37