Kyle Sandilands has run out of his home studio mid-show as fiancée Tegan Kynaston goes into labour.
The radio host was broadcasting from his home in Sydney while co-host Jackie 'O' Henderson was at KIIS FM HQ when he got up in a panic.
"Guys, I am broadcasting from home for a reason. And that reason seems to have raised its head now," he said on his breakfast program The Kyle & Jackie The Show. "I think I might have to leave the show and go to the hospital."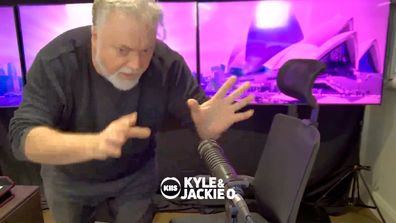 Henderson was just as excited that Baby Sandilands was on his way.
"Oh, it's time," she squealed on air, which was met by applause in the studio,
"Calm down," the dad-to-be urged his colleagues. "We don't want the kid coming out too soon."
As he arranged around his house gathering Kynas and their unborn baby's items for the hospital, Sandilands was rather apologetic for having to leave without notice.
"Guys, I am so sorry. I feel very unprepared," he said. "[But] I've got to run. I don't want to seem like I'm abandoning you, but I need to be there for my child." And with that he was off to the hospital. Listen to the moment above.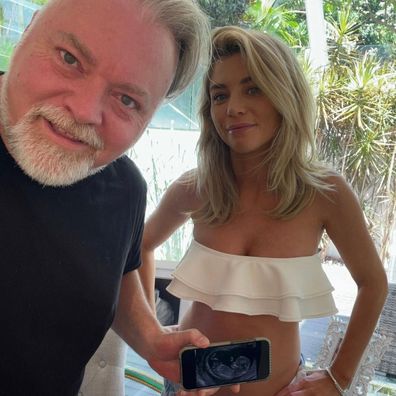 Sandilands and Kynaston, who have been dating since 2019, announced their pregnancy in February. They hosted an extravagant gender reveal party on Sydney Harbor in the weeks following their announcement.
The soon-to-be parents hired a superyacht for the big day and the baby's gender – it's a boy! – was announced by overflying planes that released copious amounts of blue smoke. See photos of the event below.
For a daily dose of 9Honey, subscribe to our newsletter here.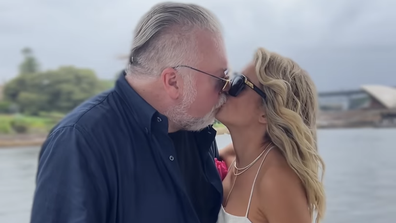 Kyle and pregnant fiancée Tegan throw elaborate gender reveal