Kyle Sandilands and fiancée Tegan Kynaston are officially parents to a baby boy!
The exciting news of baby Otto's arrival comes after Sandilands, 51, got the call that Kynaston, 37, was in labor while he was live on-air presenting KIIS FM's The Kyle and Jackie The Showand walked out to be with his fiancée for her delivery. Sandilands also later revealed on-air that he got to cut the umbilical cord.
"Guys, I am broadcasting from home for a reason. And that reason seems to have raised its head now," Sandilands suddenly said on-air this morning. Watch the moment above.
READ MORE: Nicola Peltz breaks silence on rumored feud with mother-in-law Victoria Beckham
"I think I might have to leave the show and go to the hospital," he continued.
"Guys, I am so sorry. I feel very unprepared," he said. "[But] I've got to run. I don't want to seem like I'm abandoning you, but I need to be there for my child."
This is Sandilands' first child, and the couple announced the joyous news they were expecting in true radio star fashion – by making an on-air announcement.
READ MORE: Olivia Newton-John's ex Matt Lattanzi speaks out following Aussie star's death as husband John Easterling also releases statement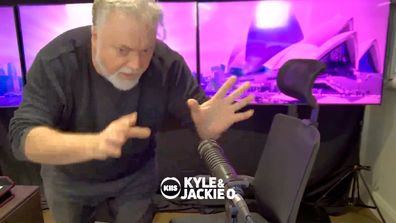 "I'm having a baby!" Sandilands announced earlier this year, one week after he and Kynaston – who have been together since 2019 – learned of her pregnancy. they also held an elaborate gender reveal above Sydney Harbor.
A month later, Sandilands revealed he and Kynaston were going to call the baby Ottoand also said the name was not a hit with all their family members.
"I don't think it's gone down too well with the family. Even Tegan's mum goes, 'Oh, there's no need to rush into a name.' And my auntie Jill went, 'What sort of stupid name is that?'" Sandilands told co-host Jackie 'O' Henderson.
READ MORE: Armie Hammer's alleged victims reveal shocking messages and voice memos in new investigative docuseries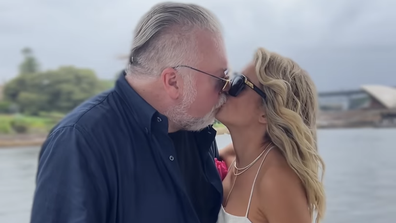 Kyle and pregnant fiancée Tegan throw elaborate gender reveal
Henderson was also surprised by Sandilands and Kynaston between radio segments, when the couple asked her to be Otto's godmother.
"Oh my god, oh my god!" Henderson said as she entered the studio filled with balloons and flowers, in a video shared to the radio show's social media.
Sandilands, Kynaston and Henderson were all smiles as she received an array of gifts for the special surprise, including a bouquet of flowers, a framed picture of the baby's sonogram and a friends novelty mug that read: "The one where I become a godmother. Est. 2022."
READ MORE: Jerrie Demasi and Michael Genovese welcome first child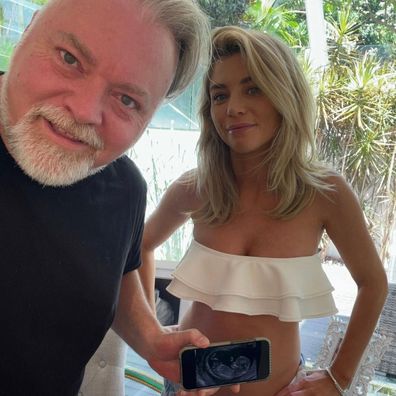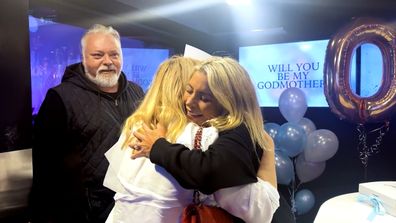 Sandilands and Kynaston have been together since 2019, and late last year, Sandilands popped the question while the couple were on holiday in Port Douglas, Queensland.
The duo went public with their romance on New Year's Eve in 2019 when Kynaston shared a photo of herself kissing Sandilands in front of the Sydney Harbor Bridge.
Prior to the couple pursuing a romance, Kynaston was Sandilands' personal assistant. She is now the director of communications of Sandilands' company King Kyle Private Limited.
For a daily dose of 9Honey, subscribe to our newsletter here.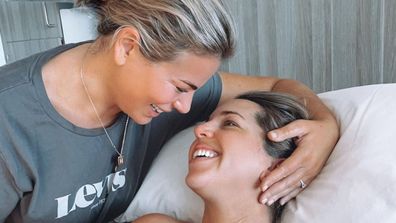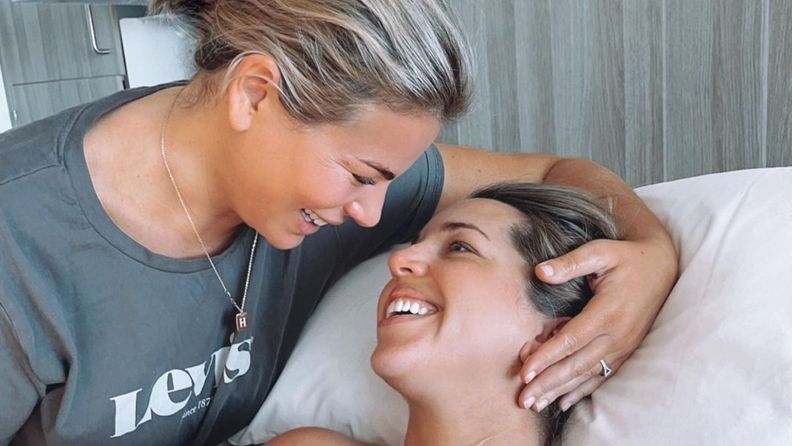 Fiona Falkiner welcomes baby boy with fiancée Hayley Willis