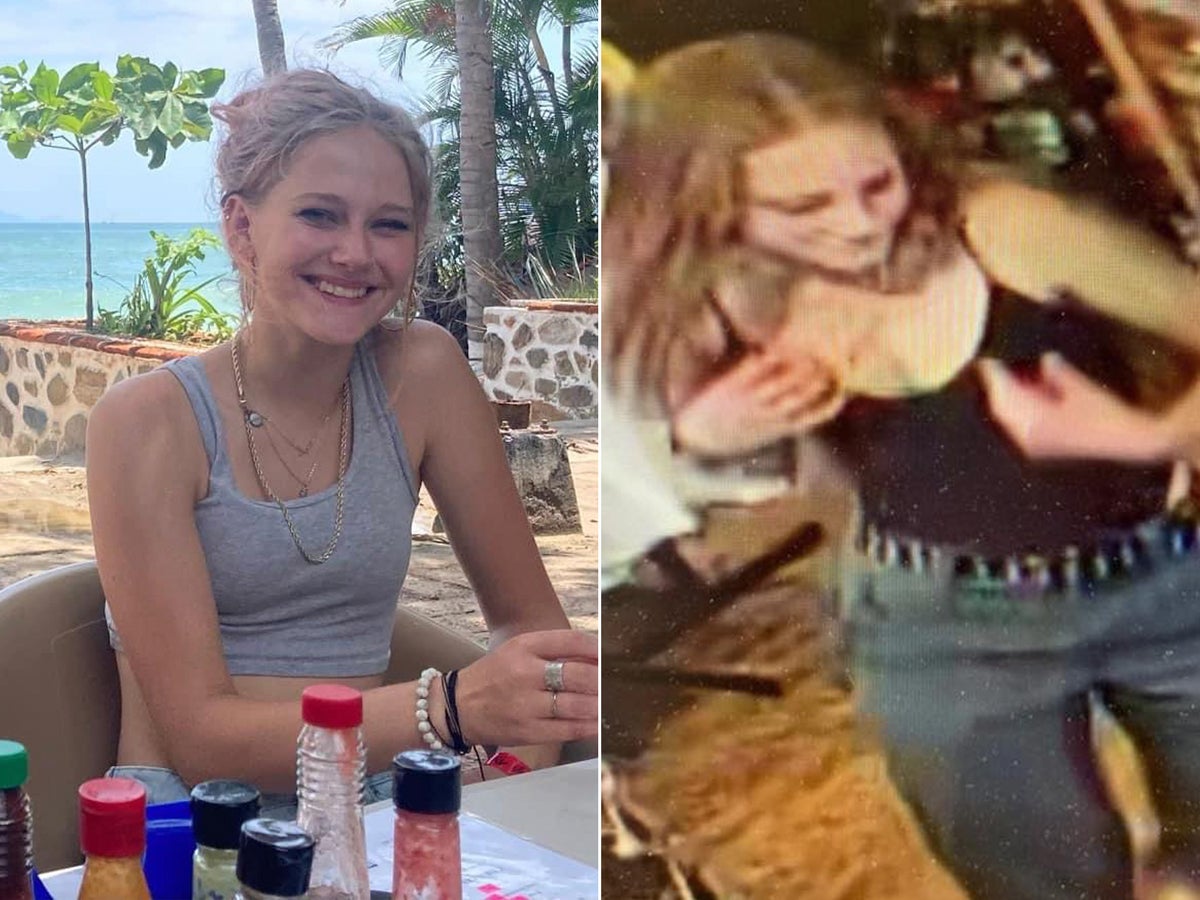 California officials discuss search for Kiely Rodni
The desperate search for missing teen Kiely Rodni who disappeared after a party at a California campground has entered its fourth day.
Kiely, 16, was last seen around 12.30am on 6 August near the Prosser Family Campground in Truckee, where she attended an allegedly alcohol-fueled gathering of more than teens and young adults.
An investigation was launched by the Placer County Sheriff's Office the next morning after Kiely failed to show up for a hike with friends and no one could get in contact with her.
The case is being treated as an abduction because Kiely's car is also unaccounted for. More than 260 personnel have been assigned to canvass the area on the ground and in the air as they plead for anyone with information to come forward.
On Tuesday, investigators released a new photo of Kiely taken by a surveillance camera inside a store roughly six hours before she vanished.
It came after the teen's friend recounted her last known phone call to The Independent, saying she was too intoxicated to have left the party herself.
1660153519
Kiely's mother pleads for the public's assistance
Lindsay Nieman-Rodni appealed to the public to come forward in a video shared by the Placer County Sheriff's Office.
"We just want her home. We are so scared. We miss her so much and love her so much. If you see this, please just come home. I want nothing more than to hug you," Ms Rodni said Monday.
"If you know where she is or know anything about where she might be, please come forward. We're not looking to arrest anybody or get anybody in trouble we just want to see our daughter home."
Andrea Blanco10 August 2022 18:45
1660152983
Three dive teams join the search
The teams will be searching at the Prosser Creek Reservoir near Lake Tahoe. They are reportedly planning to search underwater near the shore, Fox reported.
The reservoir is 60 feet deep. Law enforcement agencies have assigned K-9 units, aircraft, boats and more than 260 personnel to canvass the areas surrounding the Prosser Family Campground.
Placer Sheriff's Office public information officer Angela Musallam told The Independent on Wednesday that her department and the Nevada and Washoe sheriff offices had done water searches in the area on Tuesday but aid she could not confirmed dive teams had joined the search.
Andrea Blanco10 August 2022 18:36
1660152337
$50,000 award offered for information
Authorities have posted a $50,000 reward in Kiely's disappearance as they appeal to the public to come forward with any information.
Meanwhile, the teen's friends launched a GoFundMe to raise the reward amount.
As of Wednesday morning, the campaign has raised more than $29,000 via nearly 200 donors.
Donations can be made here.
Megan Sheets10 August 2022 18:25
1660151137
Last known photo of Kiely
Police on Tuesday released a previously unseen photo of Kiely taken about six hours before she disappeared.
The teen was captured on a surveillance camera at a local business in Truckee, presumably on her way to the campground party that was her last known location.
The Independent's Andrea Blanco has more:
Missing California teen Kiely Rodni seen in new photo as Gwyneth Paltrow joins search
Authorities are investigating Kiely's disappearance as an abduction
Megan Sheets10 August 2022 18:05
1660150638
Everything we know about Kiely Rodni's disappearance
Sixteen-year-old Kiely Rodni was last seen after midnight on 6 August after attending a party at a campground in Truckee, California.
The Placer County Sheriff's Office launched an investigation the following morning after Kiely failed to show up for a hike with friends.
A massive search effort entered its fourth day on Wednesday, with investigators treated the case as an abduction.
The Independent's Andrea Blanco explains what we know so far:
Everything we know about 16-year-old Kiely Rodni's disappearance
Kiely Rodni is described as white, 5'7" tall, and 115 pounds with blonde hair and hazel eyes. She was last seen wearing green Dickies pants and a black tank top
Megan Sheets10 August 2022 17:57