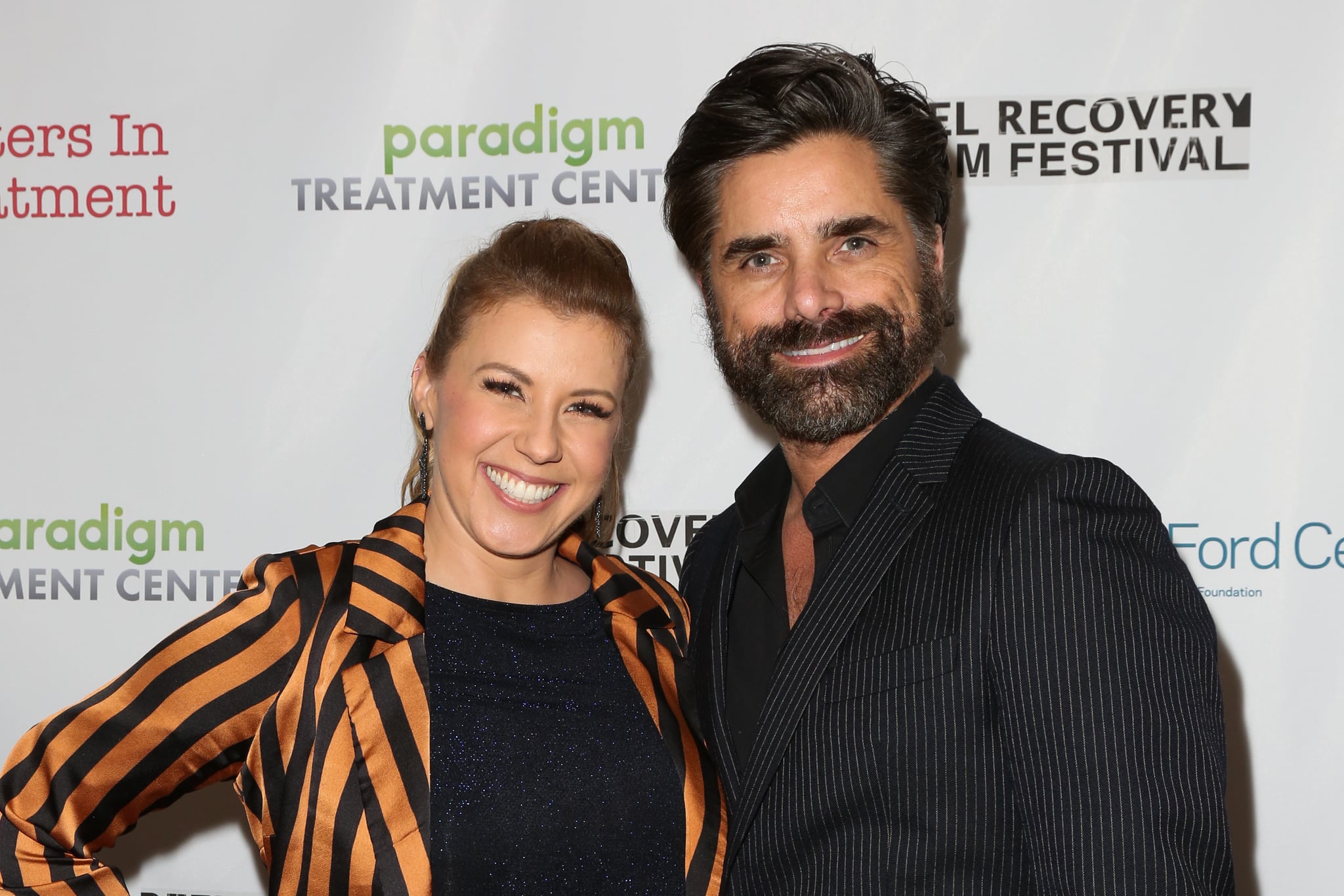 Jodie Sweetin couldn't tie the knot without somehow having her late TV dad present at her wedding. The "Full House" star married longtime boyfriend Mescal Wasilewski on July 30 in an intimate backyard ceremony, People previously reported, and some of her onscreen family like John Stamos, Candace Cameron Bure, and Andrea Barber were there to witness the special moment, including Bob Saget — in spirit, of course.
"He just had to be here for this."
During an interview with E! News's "Daily Pop," Sweetin revealed that Saget found a way to attend her wedding by way of a garment Stamos wore to the ceremony. According to her, Stamos's wife asked him to change his shirt before they left their house that day and the actor accidentally grabbed one that was noticeably big on him — it was Saget's. "He realized it was one of the shirts that Kelly [Rizzo] had given him out of Bob's closet," Sweetin explained. "And it was this black button up that Bob would always wear. Bob always had a black button up on. Only, [he] was there in his weird little way."
Sweetin added that she and Stamos shared a touching moment at the wedding once she realized whose shirt he had on. "I hugged John and then I kissed the shirt and I was like, 'Bob's here too,'" she shared, adding that Stamos also said to her, "'I have to tell you like Bob had to be here. He just had to be here for this.'"
The day after her wedding, Sweetin posted a sweet photo on Instagram of her and Wasilewski all smiles as they walked down the aisle together. Rizzo, who also attended the wedding, commented on the post and echoed Sweetin and Stamos's feelings that her late husband was there as well. "What an honor it was to be there and celebrate your love," she wrote. "I know Bob was right by my side. Love you so much."
Saget died on Jan. 9 as a result of blunt head trauma, Orange County Chief Medical Examiner Joshua Stephany, MD confirmed on Feb. 10. He was 65 years old. Following his death, friends, family, and fellow stars shared heartfelt messages on social media to pay tribute to the late actor.
In a statement to People, Saget's wife wrote: "My whole heart. Bob was my absolute everything. I am so completely shattered and in disbelief. I am so deeply touched by the outpouring of love and tribute from our friends, family, his fans and his peers." His daughter, Lara, wrote an emotional tribute on Instagram that reads, "To anyone afraid to love, Unconditional love is the greatest of gifts. My dad loved beyond everything he had . . . I am grateful to receive and to give that love . . . Of all the lessons he taught me, these feel the biggest."