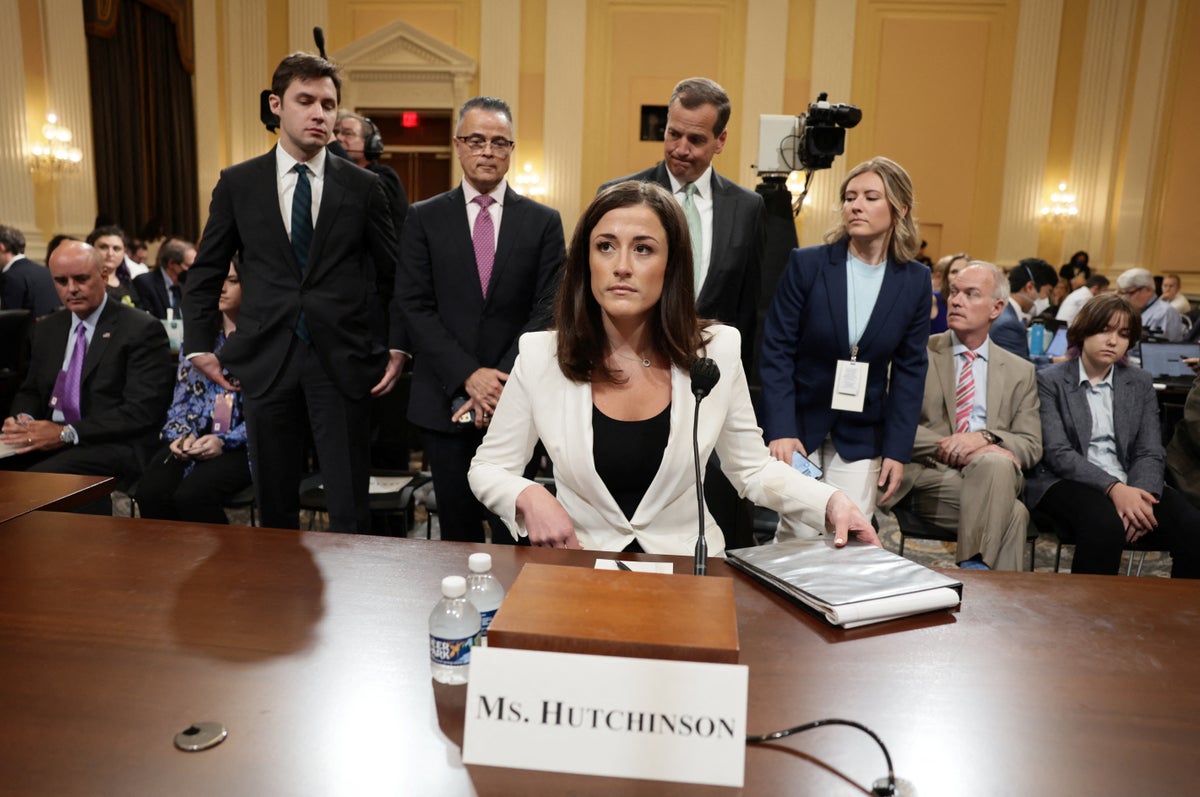 'The lie hasn't gone away': Jan 6 committee chairman says Trump threat to elections is ongoing
Former White House chief of staff Mark Meadows's top aide Cassidy Hutchinson testified before the committee investigating the 6 January attacks at the Capitol in a surprise hearing on Tuesday.
She told the committee that the president said, "I don't f***ing care that they have weapons," when he was warned his supporters were heavily armed in the moments before he encouraged them to march on the Capitol.
Once the president finished speaking to throngs of supporters on January 6, he reportedly became "irate" when his security staff didn't want him to make an unplanned visit to the Capitol, so much so that he tried to grab the wheel of the presidential limousine and allegedly attacked a Secret Service agent, according to Ms Hutchinson.
Eventually, according to Ms Hutchinson's testimony, the rioters breached the Capitol, the president nonchalantly said vice president Mike Pence "deserves" to have extremists chanting that he should be hung for refusing to overturn the 2020 election.
The former president attacked the testimony, claiming he barely knew the "sick" Ms Hutchinson.
1656541273
Former Trump White House Aide is Standing by Jan. 6 testimony amid denials from Secret Service agents
Cassidy Hutchinson is standing by her description of a confrontation between former president Donald Trump and Secret Service agents who were refusing to heed his command to drive him to the Capitol during the Jan 6 riot.
Ms Hutchinson, who served as former White House chief of staff Mark Meadows' principal assistant from April 2020 to the end of Mr Trump's term in January 2021, stunned viewers across the US this week by giving evidence on a variety of outrageous interactions which detailed how the twice-impeached former president reacted to the worst attack on the US Capitol since 1814.
Her testimony on Tuesday before the House January 6 select committee revealed how Mr Trump and his top aids were indifferent to the violence that occurred during the pro-Trump Capitol attack, among other explosive information.
One anecdote that has drawn scrutiny involves Mr Trump's former deputy chief of staff for operations, Tony Ornato — a Secret Service special agent who was detailed to the Executive Office of the President at Mr Trump's request — and the head of his Secret Service protective detail, Robert Engel.
read Andrew Feinberg's full story.
Former Trump White House aide is standing by testimony amid denials
Former White House aide Cassidy Hutchinson says two Secret Service agents told her that former president Donald Trump assaulted a member of his protective detail and tried to grab the wheel of an armored SUV after he was told he could not join a riotous mob of his supporters at the US Capitol
Josh Marcus29 June 2022 23:21
1656539444
Watergate journalist Carl Bernstein calls Trump a 'mad king' and 'seditious' after bombshell Jan 6 hearing
"She gave a picture of a Mad King," the legendary Watergate journalist told CNN on Tuesday night.
"The whole idea is now absolutely confirmed, proven, he is a criminal and a seditious president of the United States."
Ms Hutchinson, the senior aide to former White House chief of staff Mark Meadows, gave a first-hand account of the run-up to the US Capitol riots on Tuesday at a surprise hearing of the select committee probing the insurrection.
She testified that Mr Trump tried to grab the steering wheel of his presidential limousine in an effort to go to the Capitol to join his supporters and ignored the warnings of his chief of staff who said things could get "real, real bad".
Josh Marcus29 June 2022 22:50
1656538244
AOC says members of Congress who asked for pardons from Trump should be expelled
Josh Marcus29 June 2022 22:30
1656537040
Giuliani appears to admit asking Trump for a pardon before quickly claiming he never did
Former New York City mayor Rudolph Giuliani's attempt at joining his Trumpworld compatriots in attacking House January 6 select committee witness Cassidy Hutchinson on Tuesday went awry. He posted a tweet denying allegations that he'd asked for a presidential pardon, which was worded in a way that seemed to confirm the claim.
"The January 6 Witch Hunt Cabal has now exceeded even its prior fraudulent," he said. "The last witness was a reckless liar. Contrary to her false testimony she was never present when I asked for a pardon," he wrote.
Mr Giuliani, who is currently under federal investigation for work he did on Mr Trump's behalf in Ukraine, later added that he told former president Donald Trump that he "did not want or need" a presidential pardon.
Josh Marcus29 June 2022 22:10
1656535844
WHO chief: US abortion ruling 'a setback,' will cost lives
The head of the World Health Organization on Wednesday criticized the US Supreme Court decision to overturn Roe v. Wade. he calling the decision to no longer recognize a constitutional right to abortion "a setback" that would ultimately cost lives.
WHO Director-General Tedros Adhanom Ghebreyesus said during a media briefing that decades of scientific data prove that access to safe and legal abortion saves lives.
"The evidence is irrefutable," Tedros said. "Restricting (abortion) drives women and girls toward unsafe abortions resulting in complications, even death." He said safe abortion should be understood as health care and warned that limiting its access would disproportionately hit women from the poorest and most marginalized communities.
"We hadn't really expected this from the US," Tedros said, adding that he was concerned the Supreme Court's decision was a move "backwards." In recent years, the US has supported numerous maternal health care programs in developing countries, including access to reproductive health care.
"We had really hoped the US would lead on this issue," Tedros said.
Josh Marcus29 June 2022 21:50
1656534644
Ginni Thomas has 'serious concerns' about testifying to Jan 6 committee, her lawyer says
The lawyer for Virginia "Ginni" Thomas, the wife of Supreme Court Justice Clarence Thomas, said the conservative activist has "serious concerns" about testifying before the House Select Committee investigating the January 6 riot at the US Capitol.
Mark Paoletta sent an eight-page letter, obtained by The Daily Caller, to the committee as it has sought her testimony. Mr Paoletta specifically cited how Supreme Court Justices have been subjected to threats after a draft opinion of the court's decision to overturn Roe v Wade.
"I would also note that this has been a particularly stressful time as the Thomases have been subjected to an avalanche of death threats and other abuse by the unprecedented assault on the conservative Supreme Court Justices and their families", the letter said.
Eric Garcia29 June 2022 21:30
1656532844
What happened to the Roe v Wade 'night of rage'?
Matilda is one of the youngest so-called "violent radicals" and "political terrorists" taking a stand outside the US Supreme Court.
At just a few months old, she stares up wide-eyed from her stroller at the people holding brightly colored banners and signs in the June sunshine.
While her mother Zoe chats to The Independentthe little girl gently twelves off and starts to snooze.
"It was important for us to be here to be a visual representation that this affects mothers," says Zoe, holding a sign that reads "Here for her" protectively over her daughter.
"This affects children. This affects normal people. Whatever cooked-up image the pro-life people have in their minds, most people who have abortions already have children.
Rachel Sharp29 June 2022 21:00
1656531189
Cheney calls for Trump's White House Counsel to testify on record after bombshell hearing
Ms Cheney, who serves as the committee's vice chairwoman, cited testimony from former Trump administration staffer Cassidy Hutchinson.
Ms Hutchinson told the committee on Tuesday that Mr Cipollone feared that a line in a draft of former president Donald Trump's remarks at the White House Ellipse to "fight for me, fight for what we are doing, fight for the movement" and Mr Trump's desire to go to the Capitol would leave them open to be charged with "every crime imaginable."
Eric Garcia29 June 2022 20:33
1656531044
GOP Senator Thom Tillis helped turn his state red. Here's how he also helped pass bipartisan gun control
Amid the celebration after the US Senate passed the first piece of major gun legislation in nearly 30 years, following a string of horrific mass shootings in recent weeks, Democratic Senator Kyrsten Sinema of Arizona praised her Republican colleague Thom Tillis.
"Oh, Thom is wonderful", Ms Sinema told The Independent, a rare comment to the press for the lawmaker. "So pragmatic, so focused on solutions. Also a great vote counter. Great whip."
Their friendship is mutual. For Halloween last year, Mr Tillis dressed his dog Theo – named for Theodore Roosevelt – up as Ms Sinema, replete with a wig and a sweater that said "Dangerous Creature", while he dressed his other dog Mitch up as Senate Minority Leader Mitch McConnell .
But Ms Sinema – who often prizes her relationships across the aisle, often to the frustration of her Democratic colleagues – was not the only Democrat to praise the two-term North Carolina Republican, who helped flipped both houses of his state's legislature for the first time in a century and has twice narrowly escaped defeat from well-funded Democratic challengers.
Eric Garcia29 June 2022 20:30
1656529244
'Bottom line' is that Trump knew mob marching on Capitol 'was armed,' Morning Joe host says
Gustaf Kilander29 June 2022 20:00