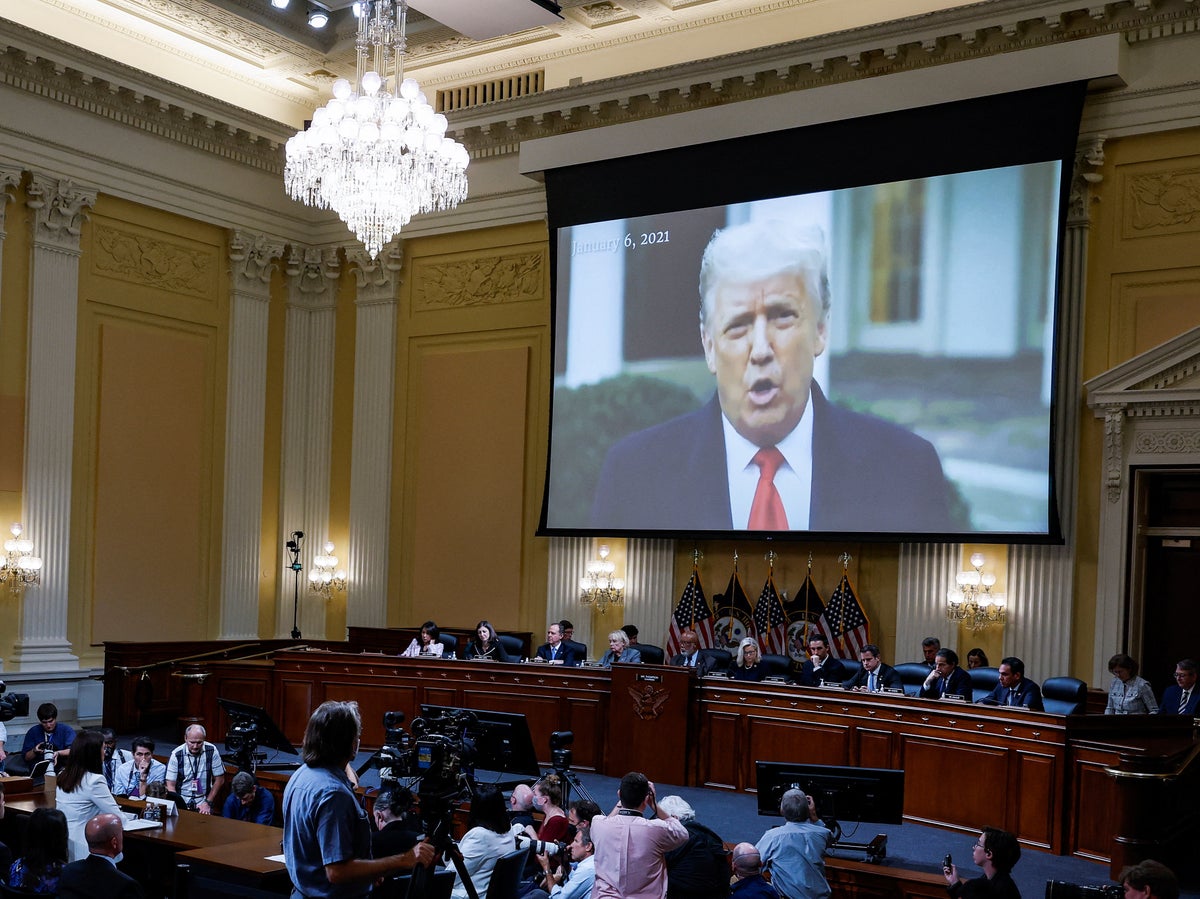 Biden jokes 'unfortunately that's probably Trump calling me' as phone goes off during speec
The 6 January select committee is reportedly planning to hold another primetime hearing on Thursday 14 July, this in addition to a session on Tuesday 12 July that will unpack evidence on how the crowd that stormed the Capitol was gathered. It is expected to focus in particular on extremist elements including the Proud Boys and the Oath Keepers.
Meanwhile, Donald Trump has taken to Social Truth to defend his campaign to pressure Georgia state officials into overturning the 2020 election, insisting that his phonecalls to them were "perfect" – this as he faces a grand jury investigation into his actions by the district attorney in Fulton County.
Mr Trump has also expressed concerns that the Jan 6 select committee may be gaining access to "inner secrets" of the government, and referred to his former White House counsel Pat Cipollone – who will be testifying privately on Friday – as a "lawyer acting for the Country" that "may someday be brought before a partisan and openly hostile Committee in Congress, or even a fair and reasonable Committee, to reveal the inner secrets of foreign policy or other important matters. So bad for the USA!"
1657270858
Former DOJ official at center of Trump's election scheme seen in underwear on police video
A former US Department of Justice official central to Donald Trump's attempts to subvert the results of the 2020 presidential election was captured on police video outside his home in a shirt and boxer shorts as investigators searched the property on 22 June.
Law enforcement on the former Jeffrey Clark's home campaign before the House select committee investigating the attack US Capitol heard testimony about the president's pressure campaign to reverse his election defeat.
Alex Woodward has more details.
Former official who pushed Trump's election scheme seen in underwear on police video
Jeffrey Clark pursued ex-president's baseless election fraud narrative
Andrew Naughtie8 July 2022 10:00
1657268422
New Jan 6 documentary director says he went soft on 'fuming' Trump
The director of an upcoming documentary "Unprecedented" whose scenes were handed over to the Jan 6 committee under subpoena has said that his approach was "very soft" and he did not push when he spoke to Mr Trump.
Alex Holder, a British filmmaker, was in the White House on the day of the attack and also spoke with Trump and his family in the aftermath of the Jan 6 riots.
Mr Holder awning Team that he filmed Mr Trump "fuming" over Georgia governor Brian Kemp and Secretary of State Brad Raffensperger, whom he called cowards.
"They're not even running the state," Mr Holder recalled Mr Trump as saying. "The state's being run by Stacey Abrams."
He said: "My approach was being really open and transparent and very soft. I didn't push. I sort of took what I could get from them… There were no tricks in this. I'm very straightforward."
After the interview ended, "there was a very awkward silence. A very uncomfortable atmosphere. There was a feeling of people being scared," he said.
The filmmaker handed hours of footage to the committee which he says was "very important for the chronology and for what was going on in people's minds at those specific times".
All three episodes of the documentary will be streaming on Discovery+ on Sunday.
Andrew Naughtie8 July 2022 09:20
1657268400
ICYMI: Former Trump press aid to testify at next Jan 6 hearing
The former Trump White House staffer who resigned after the 6 January riot at the US Capitol is set to testify publicly to the select committee investigating the incident.
Sarah Matthews, who served as deputy press secretary in the later phase of the administration, will reportedly be appearing by agreement at a future hearing after receiving a subpoena, according to CNN.
Trump press aide who quit after Capitol riot to testify at Jan 6 committee hearing
Staffer who resigned immediately after riot has already sat for a videotaped deposition, footage of which was shown at a hearing last month
Oliver O'Connell8 July 2022 09:20
1657267200
Next Jan 6 hearing will focus on Trump's role in urging mob into Capitol riot
The Jan 6 committee will meet for its next public hearing a week from Tuesday, lawmakers have announced.
A short notice was posted on Twitter by the panel's members late Tuesday afternoon. The news comes a week exactly since the last hearing of the riot committee featured the explosive testimony of Cassidy Hutchinson, a high-ranking White House staffer.
The next hearing will focus on Donald Trump and his allies' role in luring thousands of Mr Trump's supporter to the nation's capital for the day of the riot itself, members revealed in interviews over the weekend.
Jan 6 hearing: Next date revealed as focus turns to Trump's role in assembling mob
Committee will hold at least two more public hearings
Oliver O'Connell8 July 2022 09:00
1657266979
Trump's social media company disputes claim ex-president left board
Donald Trump's social media company on Thursday disputed a claim that former president left the company's board of directors just weeks before subpoenas were issued by the Securities and Exchange Commission.
Mr Trump was one of the six board members at the Trump Media and Technology Group who were removed, according to 8 June filing with the Florida Department of State's Division of Corporations.
The company denied the claims calling it a "fake news story".
"Contrary to an 'exclusive' fake news story filed by a reporter who is incapable of understanding state business records, Donald Trump remains on the board of Trump Media and Technology Group. In fact, the reporter acknowledges that Trump's title is "chairman," but apparently has no clue what a chairman presides over. Hopefully this helps clarify things," TMTG said.
Truth Social, the company's social media app, also denied that Mr Trump left the board.
Shweta Sharma8 July 2022 08:56
1657265841
Donald Trump reacts to attack on Shinzo Abe
Taking to his Truth Social handle, former president Donald Trump said the attack on former Japanese prime minister Shinzo Abe was devastating amid an outpour of messages from world leaders expressing shock and grief over the incident.
He described Abe as a "truly great man and leader" and said he "was a true friend of mine and, much more importantly, America."
"This is a tremendous blow to the wonderful people of Japan, who loved and admired him so much. We are all praying for Shinzo and his beautiful family of him!" Mr Trump said.
Shweta Sharma8 July 2022 08:37
1657265400
Brian Kemp raises $3.8m for reelection bid as Georgia governor
Georgia Governor Brian Kemp said Wednesday that his main campaign committee raised $3.8 million in the two months ended June 30, but heavy spending leading up to the Republican's blowout primary win meant that Kemp's total amount of cash on hand continued to decline.
Here's the latest from the Georgia race:
Georgia's Brian Kemp raises $3.8M for reelection bid
Georgia Gov. Brian Kemp says his main campaign committee raised $3.8 million in the two months ended June 30
Oliver O'Connell8 July 2022 08:30
1657263600
Secret Service director James Murray heading to Snapchat
United States Secret Service Director James Murray will stand down from government service at the end of the month, the agency said in a press release on Thursday.
Mr Murray, a 27-year Secret Service veteran, is the 26th person to serve in the director's role, and has done so since May 2019. According to multiple reports, he is set to assume a role in corporate security with Snap, inc.
Andrew Feinberg reports from Washington, DC.
Secret Service director James Murray retiring for role at Snapchat
James Murray is retiring after just over two years as head of the Secret Service
Oliver O'Connell8 July 2022 08:00
1657261800
Fox & Friends mocked over criticism of Boris Johnson for being dishonest, mishandling Covid and refusing to leave office… after years of supporting Trump
The hosts of Fox & Friends have been mocked for criticizing Boris Johnson for being dishonest and refusing to resign after the program spent years supporting former President Donald Trump.
"Irony was murdered, resurrected, and then killed again about five different times in this clip. A classic," said journalist Aaron Rupar.
Trump-supporting Fox & Friends mocked over criticism of Boris Johnson for dishonesty
'Irony was murdered, resurrected, and then killed again about five different times in this clip – a classic'
Oliver O'Connell8 July 2022 07:30
1657258200
Arizona Governor Ducey dismisses Trump pick to be successor
Arizona Governor Doug Ducey on Thursday endorsed businesswoman Karrin Taylor Robson to be his successor, adding his name to a growing list of mainstream conservatives looking to boost her past Donald Trump-endorsed frontrunner Kari Lake.
Robson, a political newcomer, has used her family's vast wealth to blanket the airwaves and narrow the gap with Lake, a former television anchor who has energized the Trump base with combative attacks on journalists, Democrats, and Republicans who have gone crosswise with Trump.
Arizona Gov. Ducey backs Robson as successor over Trump pick
Arizona Gov. Doug Ducey has endorsed businesswoman Karrin Taylor Robson to be his successor
Oliver O'Connell8 July 2022 06:30