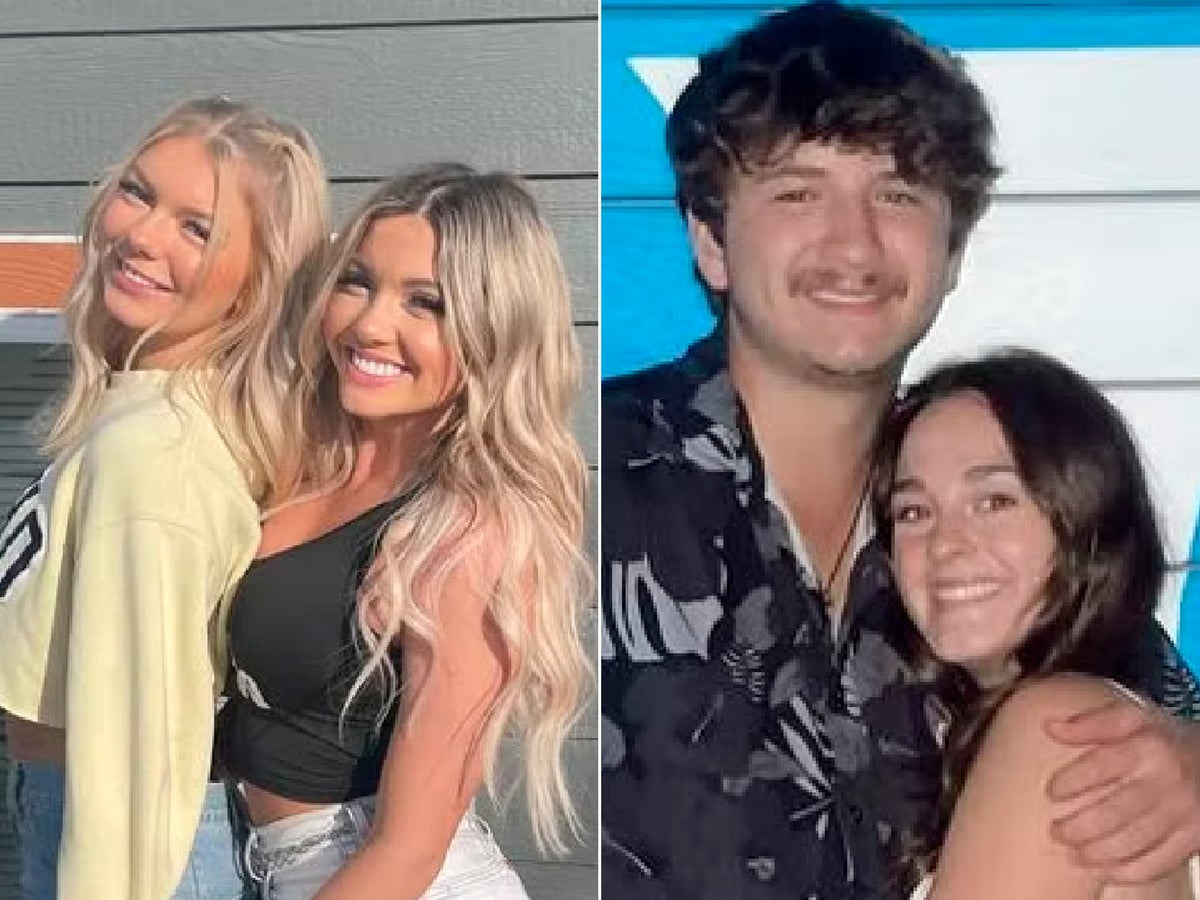 Video shows mystery man with slain Idaho students
Moscow residents have called 911 multiple times to report "suspicious" men and other disturbing incidents in the small, college town in the two weeks since four University of Idaho students were brutally stabbed to death in an off-campus home.
The Independent's analysis of police call logs revealed chilling complaints including a man carrying a knife, a person "wearing a black ski mask", a "male outside taking photos of the upper floors" of a home and reports from people believing that someone has tried to enter their home.
In one particularly chilling call, a caller said that a man had given their daughter a note on the back of a receipt at her workplace with the warning: "You better watch out."
In another, the caller said that a man was "walking around taking down the posters with the tip line information" – believed to be the tip line for the murders of Madison Mogen, Kaylee Goncalves, Xana Kerndole and Ethan Chapin.
While several of the reports appear to be disturbing, they also reveal how the community is racked by fear as no arrests have been made and no suspects named in the case.
1669789800
Police insist crime scene was secured correctly
Idaho officials have insisted that the crime scene was secured correctly and that they believe in the integrity of the investigation.
On Saturday, Idaho State Police communications director Aaron Snell told Fox News Digital that investigators working on the case "have the information" but are intentionally withholding it in order to try to catch the killer.
"Ultimately, detectives on the scene have the information," he said.
"The people that are working this case from all three agencies… they're the best and the brightest and they have the most up-to-date resources."
He added that officials have more information than they are releasing but cannot share it in order to protect the integrity of the investigation.
"And so if we just provide information to the public, I just don't think that that's going to be a wise choice," he said, adding that keeping information "from view is going to be critical [in] trying to develop" the investigation in the future.
This includes information around why they believe the murders were targeted and a profile of the killer which is being created by behavioral experts.
Rachel Sharp30 November 2022 06:30
1669788000
ICYMI: Families and police beg for online conspiracies to stop
"All the noise out there is really harming the families," a friend of Kristi and Steve Goncalves, Kaylee's parents, told The Independent🇧🇷 "And it's taking the police down trails that are not real and taking them away from the ones that are."
She was speaking from outside her home in Coeur d'Alene, a 90-minute drive north from the scene of the crime in the university town of Moscow. Kaylee and Madison were best friends and grew up around here.
The driveways of both their family homes on Monday were filled with cars, but polite, somber men who answered the door at each location said the girls' parents were declining to talk.
They've already pleaded for others to stop spreading rumours, which have been proliferating on the ground and on the internet since the 13 November slayings. In Coeur d'Alene on Monday, people were still repeating information to The Independent on that had been debunked days earlier.
Police, meanwhile, were issuing similar pleas on Monday, updating their social media posts repeatedly to address specific circulating inaccuracies. They shot down reports that the skinning of a nearby pet dog was related to the murders; then they said a report of a man waiting in a woman's car was "unfounded."
The Independent's Sheila Flynn reports from on the ground in Moscow:
Rachel Sharp30 November 2022 06:00
1669786200
Idaho governor pledges $1m to investigation
Idaho Governor Brad Little has pledged to channel up to $1m in state emergency funds to help solve the murders of the four University of Idaho students in Moscow.
On Wednesday, the governor promised to offer up to $1m in financial assistance to help boost the investigation into the 13 November knife attack.
Two weeks on from the murders, no arrests have been made and no suspects named.
Rachel Sharp30 November 2022 05:30
1669784400
Man spotted taking down tip posters
A "suspicious" man was spotted taking down tip posters around Moscow, according to a 911 call.
In one 911 call, the caller told police that they had seen a "suspicious" man walking around removing posters with information about a tip line last Tuesday.
It's not clear exactly what tip line that was, but there is a good chance it was the Moscow Police Department's tip line at 208-883-7180, which has been advertised in connection with this month's murders.
Rachel Sharp30 November 2022 05:00
1669782600
Victim's family fears killer will attend daughter's funeral
The devastated father of victim Kaylee Goncalves has revealed the family's fears that their daughter's killer would show up at her funeral.
Steve Goncalves told ABC News that the family have so far declined to hold a funeral service for the 21-year-old as the killer or killers' identity remains unknown.
"My wife's biggest fear, part of the reason we didn't have a funeral, is because she couldn't be guaranteed that that monster was going to not be there," he said.
Now, 16 days into the murder investigation, no suspects have been identified, no arrests have been made and the murder weapon has not been found.
The Independent's Graeme Massie has more:
Megan Sheets30 November 2022 04:30
1669780800
'You can't imagine sending your girl to college and they come back in an urn': Victim's father speaks out
The grieving father of victim Kaylee Goncalves has spoken of the horror of proudly sending his daughter off to college only for her to have her "come back in an urn".
Steve Goncalves told ABC News: "You can't imagine sending your girl to college and they come back … in an urn.
"You're numb … you can't absorb that amount of pain and agony."
He paid tribute to Goncalves, 21, as his "bonus child" who was always there for people and also paid tribute to his best friend Madison Mogen who was part of the family.
"When you're sick and you're down and you're out, you want to have that one great friend that's always there for you – and that's what they had," he said. "There is no Kaylee without Maddie."
His daughter was planning to move to Texas when she was killed, he said, adding that she had considered a move to Chicago but he and his wife worried it wasn't safe enough.
"She was going places. She was highly motivated," he said. "I hope people understand how all these kids … were doing everything right and they were going to be the type of people that you want to be your neighbor."
Rachel Sharp30 November 2022 04:00
1669779000
Campus security ramped up as students return
Campus security has been ramped up across the University of Idaho as students returned to Moscow on Monday following the Thanksgiving break.
Those who returned are changing their habits and ramping up security around their homes.
The Independent revealed how locksmiths have been facing increased demand in the wake of the murders and a former student has raised money for around 1,900 personal alarms for students.
The small college town had emptied out in the wake of the murders – and with no suspects identified, no arrests made and the murder weapon still not found many students are not returning.
Students have only two weeks of classes left before the university term ends for the winter recess.
College prepared for the fact that some student officials would continue to stay remote until at least the new year, vowing to take a flexible approach to learning.
"Faculty have been asked to prepare in-person teaching and remote learning options so that each student can choose their method of engagement for the final two weeks of the semester," Scott Green, university president, said in a statement last week.
Rachel Sharp30 November 2022 03:30
1669777200
University of Idaho alumna raises $20,000 for personal alarms for students
A University of Idaho alumna has raised almost $20,000 in donations to buy 1,900 personal alarms for terrified students living in Moscow with a murderer at large.
Kerry Ulhorn, a 37-year-old former member of the Delta Gamma sorority, told The Independent that she wanted to help students feel safe in the college town after four sorority and fraternity members were stabbed to death in a brutal knife attack back on 13 November.
"The hope is that these will give the students on campus a small sense of security and also just let them know that their alumni and others deeply care about keeping them and the university that we love a safe space for them to be," she said .
Two weeks have now passed since Kaylee Goncalves, 21, Madison Mogen, 21, Xana Kernodle, 20, and Ethan Chapin, 20, were brutally murdered in the off-campus home that the three female students shared.
No suspects have been identified, no arrests have been made and the murder weapon is still nowhere to be found, leaving residents in the notoriously safe area on edge.
Rachel Sharp30 November 2022 03:00
1669775400
Victim was having 'normal night' before murder, says fellow student
A University of Idaho student has revealed that she saw one of the victims enjoying a "normal night" out just hours before she was brutally murdered in her rental home.
Madison Moye told Fox News Digital that Madison Mogen spent much of the night of November 12 at The Corner Club bar in downtown Moscow.
Ms Moye, a 21-year-old sophomore and fellow member of the Pi Beta Phi sorority, said that she saw nothing out of the ordinary, with Mogen "laughing with all her friends" at the sports bar.
"It was just a normal night in Moscow," she said.
"Moscow is a safe place. Nothing like this ever happens … I didn't think anything of it."
Ms Moye lives in a home behind the murder house and said that she knew the victims and had visited their house to "hang out" with them. Mogen and Xana Kernodle were both members of Pi Beta Phi
The close proximity from her home to the crime scene left her wondering if the killer might have passed through her yard, she admitted.
"It's definitely something that's crossed my mind and that's really terrifying," she said.
Rachel Sharp30 November 2022 02:30
1669773600
Investigators still unable to rule whether Kaylee Goncalves had stalker
Investigators have still been unable to rule out the possibility that one of the victim's – Kaylee Goncalves – had a stalker.
Goncalves, 21, reportedly confided in friends before her death that she believed she was stalked by someone.
The identity of the alleged stalker is not known.
Last week, police said that they were looking into the theory but had been unable to either confirm or deny it.
In an update on Sunday, Moscow Police revealed that – despite "hundreds" of tips about the suspected stalker – they are still at something of a loss.
"Investigators have looked extensively into information received about Kaylee having a stalker. They have pursued hundreds of pieces of information related to this topic but have not verified or identified a stalker," police said in a press release.
"Anyone with information about a potential stalker or unusual instances is asked to contact the tip line."
Rachel Sharp30 November 2022 02:00