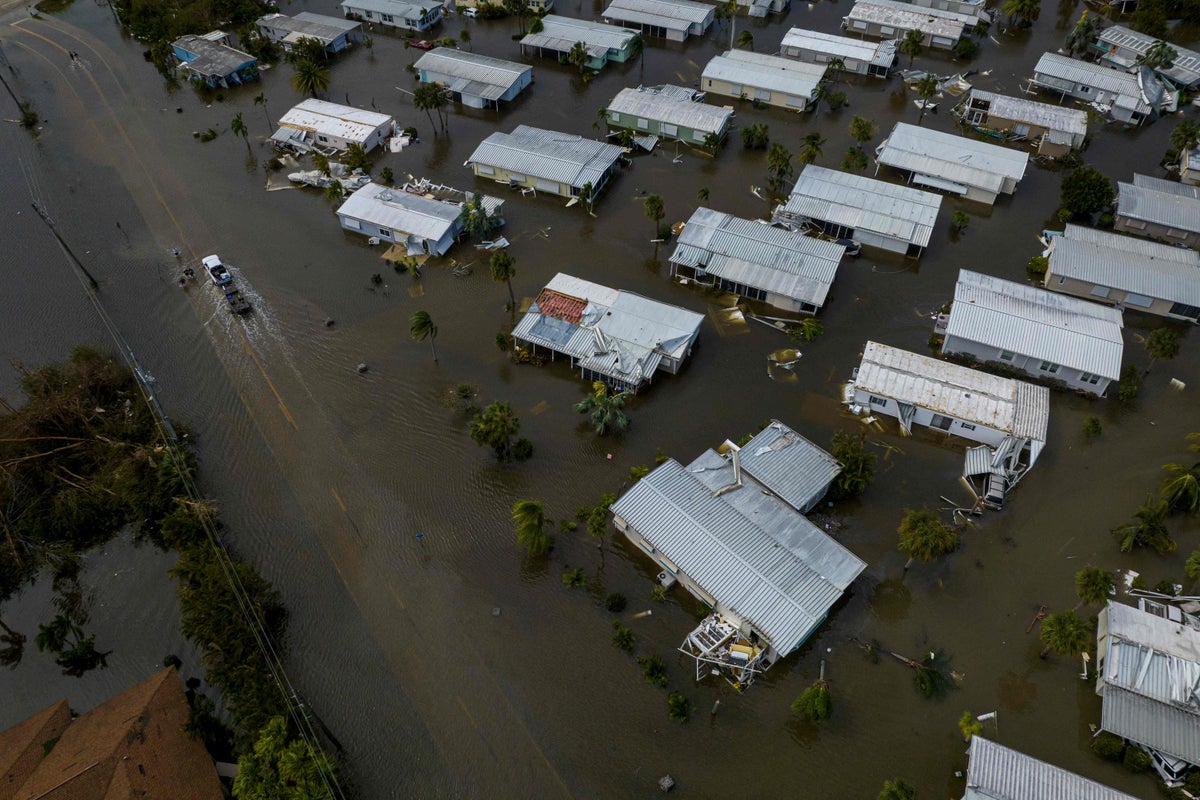 Hurricane Ian moving up East Coast
Ian is at hurricane status once more as the tropical storm plows towards the Carolinas on the southeast US coastline on Friday.
South Carolina, which is subject to major flood warnings, strong winds and a "life-threatening storm surge", is where the hurricane is expected to make landfall on Friday afternoon.
President Joe Biden has issued an emergency declaration for South Carolina ahead of time as the National Hurricane Center warns of Ian's strengthening over the Atlantic.
In Florida, rescue operations have been taking place after an unprecedented flooding from one of the most powerful hurricanes ever recorded in the United States. It remains unclear how many people are exactly missing.
Thousands of people are stranded across the state and some 2 million people remain without power, in damage and economic losses that could amount to as much as $120bn, according to one estimate.
1664552741
Protests in Havana after Hurricane Ian causes islandwide blackout
Before hitting Florida, Hurricane Ian smacked in western Cuba, leaving the entire island in the dark.
Power has been restored to parts of the country, but an Associated Press reporter witnessed some small protests break out in Havana demanding a return electricity. About 400 people were spotted chanting "We want light, we want light" while banging pots and pans.
By Thursday, only about 10 percent of people in Havana had had power restored, AP adds.
Hurricane Ian killed at least three people in Cuba.
Protests in Havana after Hurricane Ian causes islandwide blackout
A few hundred Cubans have taken to the streets in Havana demanding the restoration of electricity, protesting more than two days after a blackout hit the entire island following the passage of Hurricane Ian
Ethan Freedman30 September 2022 16:45
1664552393
Most of North Carolina at flood risk
The vast swath of North Carolina and South Carolina, as well as a large part of Virginia, faces serious flood risk on Friday and Saturday as up to eight inches (18 centimeters) of rain falls from Hurricane Ian, the National Hurricane Center said.
People in low-lying areas across the region should remain on alert.
Ethan Freedman30 September 2022 16:39
1664552038
Hurricane force winds 'imminent' in South Carolina
Hurricane-force winds, meaning 74 miles per hour (119 kilometers per hour), are "imminent" in South Carolina, the National Hurricane Center said in a Friday video update.
Storm surge is expected to occur now and into the next few hours, they add.
Ethan Freedman30 September 2022 16:33
1664551853
Hurricane Ian 'acclerating' toward South Carolina
The National Hurricane Center said that Hurricane Ian is "accelerating" its path toward land as the South Carolinians brace for the storm's third landfall.
The hurricane was about 60 miles (95 kilometers) southeast of Charleston and moving northward at 14 miles per hour (22 kilometers per hour), according to the agency's 11 AM update.
Wind speeds were measuring up to 85 mph (140 kph). Storm surges along the coast is expected to reach up to seven feet (2.1 meters) in some places, the heavy rain batters parts of South Carolina, North Carolina and Georgia.
Charleston has essentially shut down for the day, with some streets already flooding by early morning.
Ethan Freedman30 September 2022 16:30
1664551367
Footage shows destroyed Sanibel Causeway on Gulf Coast
Drone footage captured the shocking aftermath of Hurricane Ian on the Sanibel Causeway, the only road onto Sanibel and Captiva islands off the west coast of Florida.
The bridge has been destroyed in a few different places, leaving the small community on the island completely cut off by road from the mainland in the Fort Myers area.
Hurricane Ian made landfall just north of the two islands, putting this spot in some of the worst conditions on Wednesday.
Hurricane Ian: Drone video shows devastating damage to Sanibel Causeway
Ethan Freedman30 September 2022 16:22
1664550953
Charleston hunkers down for the storm
Residents of Charleston, South Carolina closed up their businesses, offices and homes, cleared debris from the streets and stayed home as the city braces for Hurricane Ian's landfall on Friday.
Inclement weather has already started, with some streets in the city closed due to flooding by Friday morning.
Ethan Freedman30 September 2022 16:15
1664550028
Hurricane warning for Carolina coastline
A stretch of coastline from the Savannah River in South Carolina to Cape Fear in North Carolina is currently under a hurricane warning as Ian approaches.
Flooding is likely across the Carolinas and southwestern Virginia, the National Hurricane Center says, while warning of a 7ft storm surge and rainfall of up to 8 inches (20 cm) is also expected.
In an update at 5am on Friday, the National Hurricane Center placed Ian about 145 miles (235 km) southeast of Charleston with wind speeds of 85mph.
When the storm made landfall in southwest on Florida on Wednesday, Ian was a category five storm with winds of 155mph.
Gino Spocchia30 September 2022 16:00
1664549561
Florida Power and Light says restoration timeline expected today
A spokesperson from Florida Power and Light, the state's largest electrical utility company, told CNN on Friday that a timeline for power restoration in most of their affected areas will come by later in the day.
But some areas with the worst damage may not get an assessment soon, as crews need more time to really learn the extent of the problems, he added.
"We're still doing damage assessments in the hardest-hit areas where it's just been difficult to access those locations because of floodwaters and because of debris," the spokesperson told the network.
The company provides electricity to roughly half of Florida's population, including much of the hardest hit areas of southwest Florida. Nearly 2 million people in the state are still without power, according to poweroutage.us, with more than 80 per cent of customers facing blackouts in some southwest counties.
Ethan Freedman30 September 2022 15:52
1664549141
At a Florida trailer park, survivors speak of Hurricane Ian's wrath
At one community in North Fort Myers, Florida, Hurricane Ian survivors speak about the catastrophic damage their trailer park community faced during the storm.
"I literally watched my house disappear with everything in it, right before my eyes," said James Burdette, 62. "I watched things start to fly, part of the roof went off, the rest of the roof went off, the walls caved in."
The Fort Myers area got a near-direct hit from Hurricane Ian, which made landfall as a strong Category 4 storm.
At a Florida trailer park, survivors speak of Hurricane Ian's wrath
Ian's fierce winds howled through a Gulf coast trailer park with such force that residents felt they would be lifted off the ground, even blown away
Ethan Freedman30 September 2022 15:45
1664548228
Climate change increased Hurricane Ian's extreme rain, analysis shows
The climate crisis increased Hurricane Ian's rainfall by at least 10 percent, according to new analysis by US scientists.
Michael Wehner, a senior climate scientist, said the estimates were "conservative", adding that his best calculation was that the rainfall was around 14 per cent heavier due to human-induced global heating.
The Independent's Saphora Smith has more details here:
Climate change increased Hurricane Ian's extreme rain, analysis shows
The climate crisis doesn't cause hurricanes, but it causes them to be more intense
Ethan Freedman30 September 2022 15:30