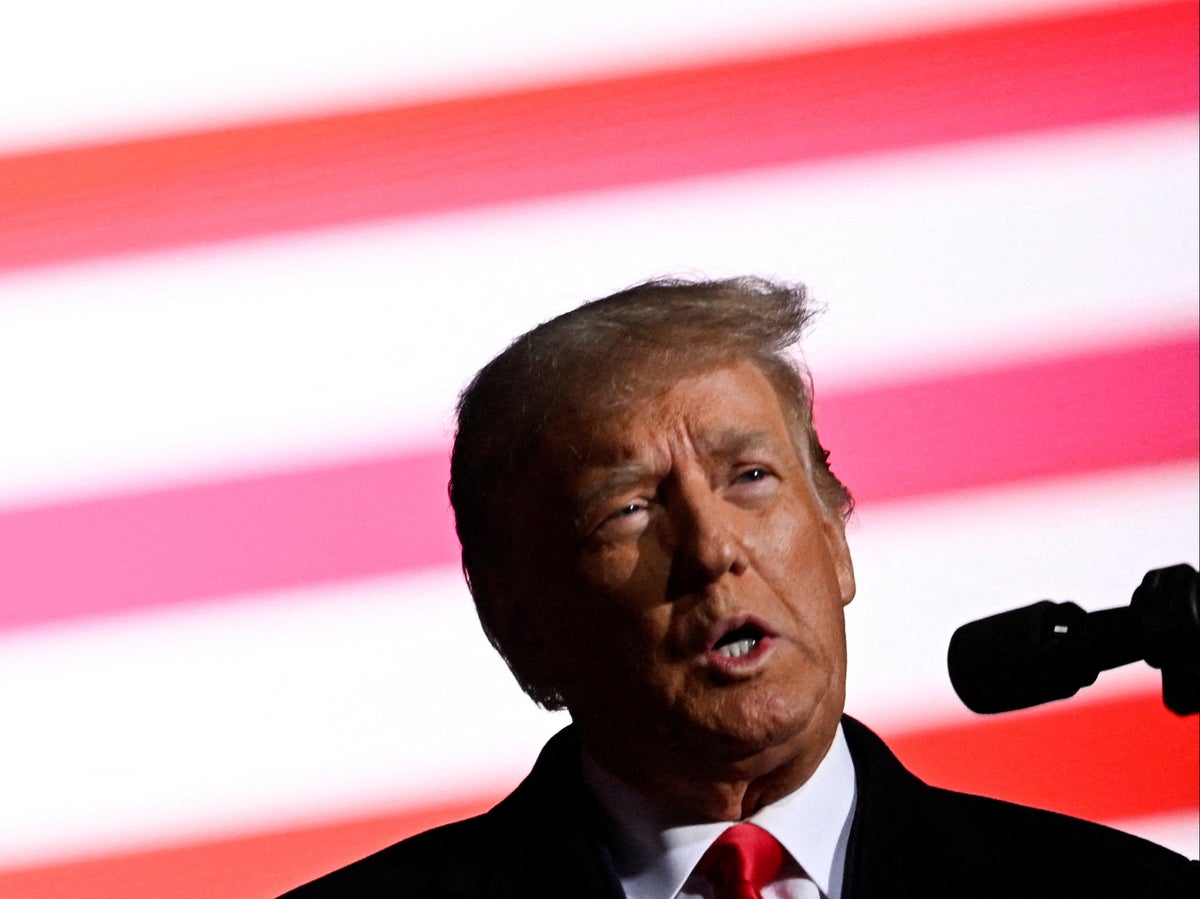 Mike Pence admits he was 'angered' by Trump's Jan 6 tweet
Donald Trump promised to build his presidential campaign around the rioters who stormed the Capitol on January 6, while claiming that the people facing charges and prison time over the violent insurrection are being treated "unconstitutionally".
"People have been treated unconstitutionally, in my opinion, and very, very unfairly, and we're going to get to the bottom of it," he said in a video screened on Thursday night at a fundraiser for families of those charged in attacking the Capitol. The country, he cautioned, "is going communist."
Earlier the former president took to Truth Social to defend hosting the rapper formerly known as Kanye West at Mar-a-Lago, writing that "the story in AP, written by the untalented and very unreliable Jill Colvin, who I unfortunately got to know at the White House, is Fake News".
Mr Trump didn't mention Ye's latest antisemitic comments on Infowars in which he praised Adolf Hitler and the Nazis.
"I see good things about Hitler," Ye told host Alex Jones.
Late on Thursday, an appeals court dealt a blow to Mr Trump in the Mar-a-Lago classified documents case.
1669878300
Trump excoriates Karl Rove
Donald Trump attacked GOP strategist Karl Rove in a late-night Truth Social meltdown on Wednesday evening, and bizarrely claimed that his candidates did better than ones endorsed by Mr Rove. It was not clear which candidates he was talking about.
john bowden1 December 2022 07:05
1669881900
Far-right provacateur claims he set up dinner with Trump and white supremacist 'to make Trump's life miserable'
Donald Trump's meeting with one of the US's most prominent racists came as a result of the plans and schemes of Milo Yiannopoulos, a disgraced ex-Breitbart News editor who now appears to be running the 2024 political efforts of rapper Kanye West.
The former president has claimed in the days since the meeting to not have known Mr Fuentes or the extent of his hateful views before sitting down with him. Regardless, he faces a torrent of criticism from members of both parties in a scandal reminiscent of the 2017 "Unite the Right" rally-turned-riot in Charlottesville, Virginia — which Mr Fuentes coincidentally attended.
That torrent of incoming fire appears to be the result of Mr Yiannopoulos's efforts to "make Trump's life miserable", an explanation he gave to NBC News on Tuesday. A former right-wing provocateur who toured the country hosting events with a small entourage in front of young, right-wing audiences, Mr Yiannopolous lost his funding and political connections thanks to comments he made in 2017. Those comments appeared to condone paedophilia and evoked massive backlash.
Read more from john bowden🇧🇷
john bowden1 December 2022 08:05
1669885200
In his same Truth Social rant targeting Karl Rove, Donald Trump turned his fire on Senate Minority Leader Mitch McConnell.
"Also 12-0 in Senate Endorsements against the Broken Old Crow, Mitch McConnell, who has, by the way, a 6 % Approval Rating – Not exactly great news for the Republican Party!" he wrote on Truth Social.
Mr McConnell was publicly warning for months after a handful of Mr Trump's candidates won narrow primaries against conservative rivals that the untested newcomers selected by the former president could cost the GOP a chance at a Senate majority. With all but one races concluded, he appears to have been correct.
john bowden1 December 2022 09:00
1669888800
Oath Keepers conviction is a win for Department of Justice in Jan 6 probes
The seditious conspiracy convictions of Oath Keepers founder Stewart Rhodes and another leader in the far-right extremist group show that jurors are willing to hold accountable not just the rioters who stormed the US Capitol on Jan. 6, 2021, but those who schemed to subvert the 2020 election.
Tuesday's verdict, while not a total win for the Justice Department, gives momentum to investigators just as the newly named special counsel ramps up his probe into key aspects of the insurrection fueled by President Donald Trump's lies of a stolen election.
Sedition trial win bolsters Justice Dept. in Jan. 6 test
The seditious conspiracy convictions of Oath Keepers founder Stewart Rhodes and another leader in the far-right extremist group show that jurors are willing to hold accountable not just the rioters who stormed the US Capitol on Jan. 6, 2021, but those who schemed to subvert the 2020 election
1669892640
Fuentes/West: Kevin McCarthy misrepresents Trump's denials
Reporters on Tuesday pressed House Minority Leader Kevin McCarthy about his false claim that former president Donald Trump denounced white supremacist Nick Fuentes four times.
"I don't think anyone should be spending any time with Nick Fuentes," he said. "He has no place in this Republican Party. I think President Trump came out four times and condemned him and didn't know who he was."
Mr Trump has not in fact denounced Mr Fuentes; he has simply said that he did not know who Mr Fuentes was.
Read more in The Independent:
john bowden1 December 2022 11:04
1669896000
Republican governor holds fundraisers as he eyes 2024 bid
Term-limited Maryland Gov. Larry Hogan was holding fundraisers for future political activity Wednesday at events where the Republican is expected to talk about his eight years as governor, as well as plans for the future.
Hogan, who leaves office in January, has positioned himself to run as a legitimate alternative to former President Donald Trump, who has already announced he's running for president in 2024.
1669898165
Trump calls Manhattan DA case against him "bulls***"
The Manhattan District Attorney's tax fraud case against the Trump administration is now headed for closing arguments after a trial that saw former top executives and longtime accountants taking the stand despite the former president's outrage at his company being investigated.
Pending an outcome, Mr Trump's response has been to try and delegitimize the trial based on claims that the case has "collapsed" – it has not – and a general characterization of the DA's office as a failing operation.
Andrew Naughtie1 December 2022 12:36
1669899605
Another notorious extremist joins nascent West campaign
Along with Nick Fuentes and Milo Yiannopoulos, Kanye West appears to have picked up another comrade from the world of online racist extremism: Owen Benjamin, who was banned from most mainstream platforms during the Trump presidency for his antisemitic, racist and homophobic remarks. He went on to become a notable proponent of Covid-19 misinformation within the far-right echo chamber.
Andrew Naughtie1 December 2022 13:00
1669901405
Rabbi who spoke at Trump inauguration laments West-Fuentes dinner
Writing for the Hollywood ReporterRabbi Marvin Hier, who spoke at Donald Trump's inauguration in January 2017, has given a wrenching response to the former president's dinner with two avowed antisemites, explaining in unsparing terms just how serious a matter it is:
Read the full column below.
Andrew Naughtie1 December 2022 13:30
1669903205
Is Marco Rubio running for president again?
Florida Senator Marco Rubio lasted longer than most other Republican candidates in the 2016 presidential primary, but not before being roundly humiliated by Donald Trump, who derided him as "li'l Marco" and defeated him by a landslide in his home state, which was supposed to serve as a firewall delegate. However, he managed re-election to the Senate that year, as he did this November – but having moved like many other senators to be broadly behind Mr Trump and his agenda, a telltale sign has emerged that he may be considering another campaign:
While Mr Trump has announced he is running again, his flaccid launch, permanent state of legal crisis and continued missteps have more than ever opened up the idea that challenging him might be worth a try. Andrew Feinberg has this look at how the 2024 field is shaping up so far.
Who is running for president in 2024?
With less than two years remaining until US voters will decide who will serve as president of the United States from January 2025 to January 2029, former Republican government officials are starting to jockey for position in the coming fight for the 2024 GOP presidential nomination, while at at least one prominent Democrat (California governor Gavin Newsom) has reportedly pledged not to challenge President Joe Biden in a Democratic primary.
Andrew Naughtie1 December 2022 14:00