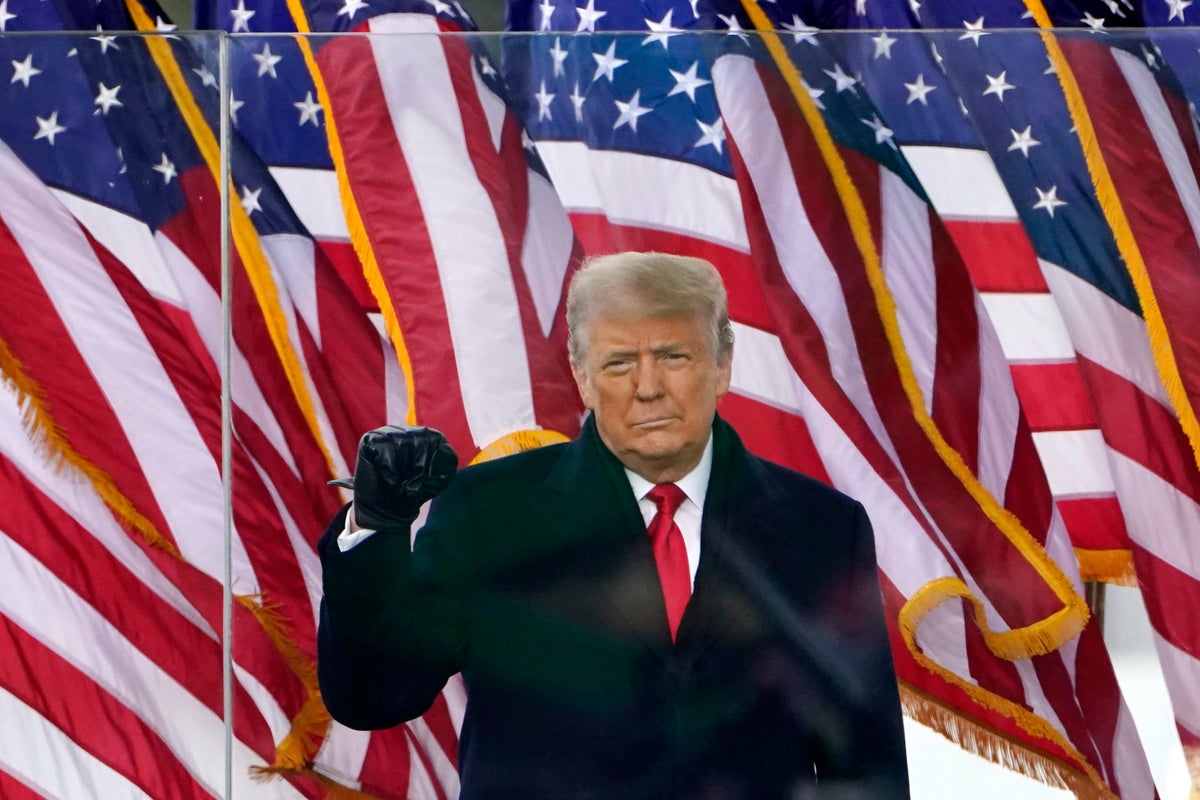 Meta, the parent company of Facebook, has announced that Donald Trump's accounts will be reinstated on the social media giant's platforms, leaving some questioning the company's decisions — and whether it will help the former president's 2024 Oval Office ambitions.
Two years ago Facebook (which had not yet become Meta) and Twitter banned Mr Trump's accounts on the social media platforms, deeming him in violation of their policies.
The bans came in the wake of the Capitol riot, during which time Mr Trump waited hours to call off his loyalists attacking police officers and destroying property at the federal building.
Prior to January 6, Mr Trump used his Facebook account to amass millions of followers and spread false conspiracies about the 2020 election being stolen by "fraud." At various points during election season, Facebook took to individually appending labels to Mr Trump's posts directing readers to factually accurate election information.
Following the announcement, Mr Trump lashed out against Facebook in a post on Truth Social.
"FACEBOOK, which has lost Billions of Dollars in value since 'deplatforming' your favorite President, me, has just announced that they are reinstating my account," the former president wrote. "Such a thing should never again happen to a sitting President, or anybody else who is not deserving of retribution! THANK YOU TO TRUTH SOCIAL FOR DOING SUCH AN INCREDIBLE JOB. YOUR GROWTH IS OUTSTANDING, AND FUTURE UNLIMITED!!!"
Many observers hammered the decision to allow the former president back onto Meta's influential social media platforms.
Congressman Adam Schiff, a member of the January 6 committee and a sharp Trump critic, accused the company of giving Mr Trump a "platform to do more harm."
"Trump incited an insurrection. And he tried to stop the peaceful transfer of power, "the California Democrat wrote on Twitter on Wednesday. "He's shown no remorse. No contrition. Giving him back access to a social media platform to spread his lies and demagoguery is dangerous. Facebook caved."
Now, both Mark Zuckerberg's Meta and Twitter – now under the leadership of conservative darling Elon Musk – have reversed course just in time for the 2024 election cycle.
"I was right about Meta all along. Everyone who trusted them — you're all dupes," Brooke Binkowski, the managing editor of TruthorFiction.com, wrote on Twitter in response to the news.
She was skeptical, however, as to how much Mr Trump's return to Facebook and Instagram would ultimately help his campaign — and the tech company, which saw a value loss of $700bn in 2022, according to CBS News.
"It's not gonna save Meta and it's not gonna save Trump either," she wrote. "That momentum is gone. He's just another pathetic old racist with bad hygiene and no money."
David Roberts, a clean energy and politics researcher, also expressed skepticismbut his was focused on Meta's willingness to enforce its rules should Mr Trump break them.
"This is such a ridiculous joke. Everyone knows that no matter what standards there are, no matter how minimal, Trump will immediately violate them," he wrote in a tweet. "Then 'Meta' will be stuck explaining why it won't ban him again despite that."
Meta's President of Global Affairs announced Mr Trump's return in a Twitter thread, noting the decision would be "fiercely criticized." He noted the company did not want Mr Trump to use the platform to undermine the 2024 election in his announcement.
"We just do not want — if he is to return to our services — for him to do what he did on 6 January, which is to use our services to deligimitise the 2024 election, much as he sought to discredit the 2020 election," he wrote.
The company said if Mr Trump did violate its rules, he would be suspended from the platform.
"In the event that Mr. Trump posts further violating content, the content will be removed and he will be suspended for between one month and two years, depending on the severity of the violation," the company said in a statement.
Some observers celebrated the decision to reinstate the former president.
"This is the right call — not because the former president has any right to be on the platform but because the public has an interest in hearing directly from candidates for political office," Jameel Jaffer, director of the Knight First Amendment Institute at Columbia University , awning traffic light. "There are narrow circumstances in which social media platforms really have no choice but to take down political leaders' posts – which is why we endorsed Meta's decision to suspect Trump's account of him when he used it to encourage violence."