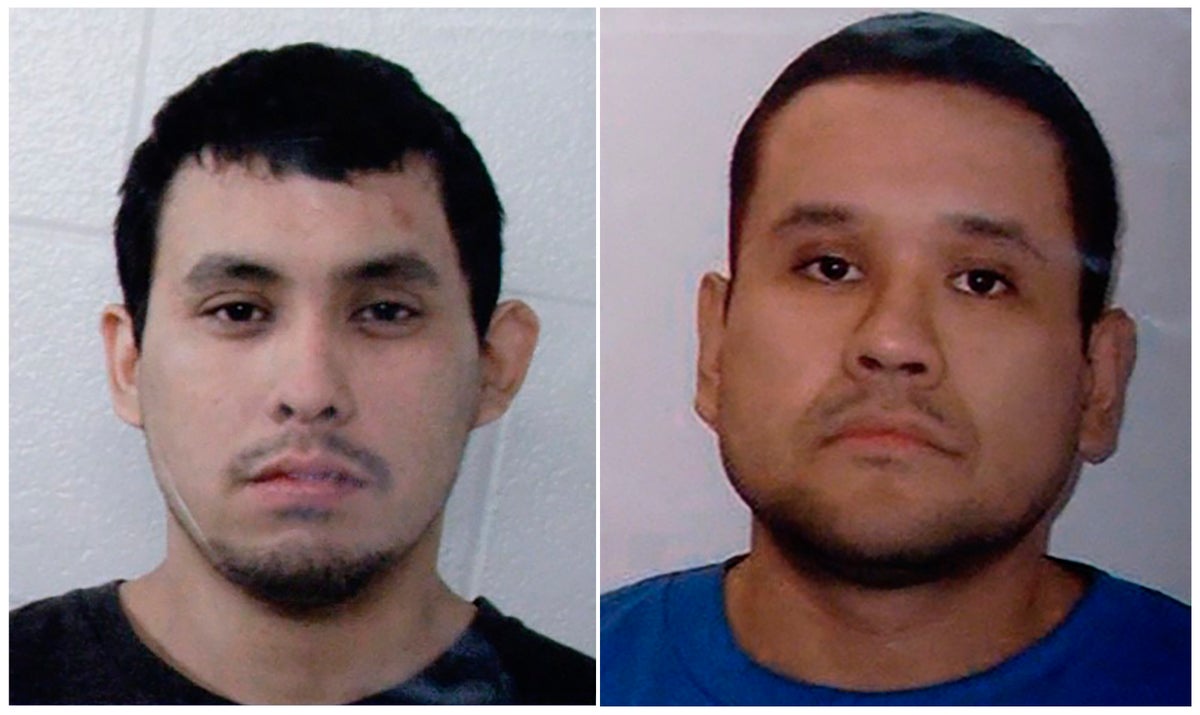 Two men are suspected to have carried out a spate of stabbings across Saskatchewan in one of the deadliest mass killings in Canada's history.
At 5.40am on Sunday, Royal Canadian Mounted Police in northern Saskatchewan received multiple 911 calls about reported stabbings taking place across the James Smith Cree Nation, a First Nation composed of three communities which is located about 300km north of the province's capital of Regina.
After an initial dangerous persons alert was sent to people in the small northern community at shortly after 7am, a follow-up alert confirmed the names of the two suspects wanted in the attacks that left at least 10 people dead and another 18 injured.
Myles Sanderson, 30, and Damien Sanderson, 31, were identified by police as the two suspects who they believe carried out a series of knife attacks at 13 different sites between James Smith Cree Nation and Weldon, a small village that lies about 25km to the southeast of where the first attacks were reported.
Here's what we know so far about the suspects:
Who are Myles and Damien Sanderson?
Photographs shared by authorities of the two suspects flared out across social media as the manhunt continued overnight into Monday morning.
Damien Sanderson was described as a 31-year-old male, 5ft 7in, weighing 155lbs with black hair and brown eyes. Myles Sanderson is a 30-year-old male, 6ft 1in and 240lbs with brown hair and brown eyes.
Thirty-year-old Myles Sanderson was reportedly listed as "unlawfully at large" by Saskatchewan Crime Stoppers in May, Reuters reported. No further details were included in that release, about why he was wanted.
"If they are listening, I would like to ask them to turn themselves in to police," RCMP Assistant Commissioner Rhonda Blackmore said at a news conference in the province's capital of Regina on Sunday afternoon.
By Monday afternoon, RCMP confirmed that the older brother, Damien, had been found dead with wounds that did not appear to be self-inflicted, said Ms Blackmore.
The body of the 31-year-old was found on James Smith Cree Nation at approximately 11.30am on Monday. Police who had been examining a house as part of the investigation were the ones who uncovered the suspect's body, which was in what has been described as a heavily grassed area.
As of Tuesday morning, the younger brother, Myles, remains at large.
There has been no named motive from authorities, but the Federation of Sovereign Indigenous Nations Chief, Bobby Cameron, hinted in a release that he believes to have played a role, The Globe and Mail reported.
"This is the destruction we face when harmful illegal drugs invade our communities, and we demand all authorities to take direction from the chiefs and councils and their membership to create safer and healthier communities for our people," Mr Cameron said.
Where is Myles Sanderson?
On Monday, authorities said they had "no indication they traveled to another province," but officers had extended the dangerous persons alert to both neighboring Alberta and Manitoba by midmorning on Sunday.
That working assumption was reiterated late in the evening on Monday, when Regina Chief Police Evan Bray said that officers will continue to operate under the assumption that the still-wanted suspect is somewhere in Regina "until we get information that indicates otherwise".
"Report anything that's unusual," Chief Bray asked in his address.
Authorities have no evidence to support that Myles has changed vehicles, and his last known getaway car was described as a black Nissan Rogue SUV with Saskatchewan license plate 119 MPI.
In a Monday morning update, Regina Police Chief Evan Bray said that his department and the RCMP used maximum resources throughout the night to continue the manhunt for the pair into early hours of the morning, but their search proved fruitless.
"Despite ongoing relentless efforts through the night by both the RCMP and the Regina Police Service to locate these two individuals, they have not yet been located. And so efforts continue," the chief said, noting that a "fresh set of investigators" would be arriving on Monday morning to take over the investigation for the rest of the day.
"We will not stop this investigation until we have those two safely in custody."
By Tuesday night, authorities had changed gears about where the suspect could be hiding out after receiving a tip that Myles Sanderson was possibly spotted back at James Smith Cree Nation on Tuesday afternoon.
That tip, however, proved fruitless and by late that night, the Regina Police Department had conceded that they no longer believed the suspect to be in Regina as once thought.
"Early on Sunday we had information that proved to be reliable that Myles Sanderson was in our community and that as a result, the Regina Police Service was assisting the RCMP in trying to locate him," the chief began in a video address posted to his Twitter.
"Today we received information that was leading us to believe he may no longer be in this community."
Authorities made a plea for anyone with information to come forward to their local police force but emphasized that if people suspect that they've seen or encountered Myles, to exercise caution as he is expected to be armed and dangerous.
"We do want the public to know this because there is a possibility he may seek medical attention," Ms Blackmore said. "Even if he is injured, it does not mean he is not still dangerous," she added.
Police said that they are also investigating whether Myles might have played a role in Damien's death but could not confirm any more details around that theory.
"It is an investigative avenue that we are following up on."
A two-decade history of criminal convictions
As recently as May of this year, Myles Sanderson, 30, was listed as "unlawfully at large" by Saskatchewan Crime Stoppers, but that was only one of a long list of run-ins the young man had had with law enforcement and the justice system in recent years.
Parole records obtained by Global News revealed how the young brother, who still remains at large, had accrued nearly two decades of criminal activity, which included drug and alcohol abuse, and associations with gang members and drug dealers.
His recent convictions included assault, assault with a weapon, assaulting a police officer, mischief and robbery.
In February of this year, a parole board determined that 30-year-old would "not present an undue risk," and freeing would "contribute to the protection of society" by the helpful his reintegration, Global News reported.
On Monday, police announced that both Sandersons had been issued arrest warrants for their involvement in Sunday's deadly stabbings.
The parole board considered Myles upbringing and struggles with drugs and alcohol in its February decision, including a stipulation that he must remain sober and seek therapy as part of his release.
According to his parole records, the younger brother spent his childhood bouncing between family members, reportedly leaving various guardians at different times during his youth because of an "abusive environment".
Psychological records detail how this tumultuous upbringing "created a sense of abandonment and feelings of not being wanted," which it said played a part in his criminal conduct.
"Considering your Indigenous background, the Board notes that there are factors from your background that may have contributed to your involvement in the criminal justice system," the Parole Board's decision read.
Those impacts included the inter-generational trauma from Canada's residential school system, which a 2015 commission concluded was considered "cultural genocide", exposure to substance abuse, experiencing domestic violence during childhood, family fragmentation, lack of education, and loss of culture and spirituality , Global News reported.