Key events
11th over: Australia 19-2 (Smith 3, Labuschagne 1) Boult continues into his sixth over (and with figures of 1/7, why not?) and the maidens return. Boult's form has been a major reason why Australia have struggled in all three Powerplays at the start of their innings this series. He is bowling beautifully again today, shaping the ball out and in, finding a perfect length every time. Labuschagne is focussed only on defence, especially wary of the one that arcs back towards where a gate may have been left open.
10th over: Australia 19-2 (Smith 3, Labuschagne 1) The run! Stop the presses! There's a been a run in Cairns! After 23 scoreless deliveries Labuschagne nurdles a single off his pads to lubricate the scoreboard. The floodgates have opened out in the middle with Smith nudging a mighty two into the leg-side.
9th over: Australia 16-2 (Smith 1, Labuschagne 0) Three maidens in a row! Boult whistles a jaffa past the shoulder of Smith's bat to begin the ninth over. Five more line and length dots follow as Australia's first drop takes no chances against such accurate bowling. 21 balls without scoring now for Australia.
8th over: Australia 16-2 (Smith 1, Labuschagne 0) Consecutive maidens for New Zealand. The tally of deliveries without scoring rises to 15 as Southee keeps Labuschagne honest.
7th over: Australia 16-2 (Smith 1, Labuschagne 0) Trent Boult consolidates New Zealand's position with a maiden over to Steve Smith.
Every Australian batter so far has looked uncertain at the crease, unsure whether to take the game on or use the pace of the ball to make runs. Smith is the latest to almost perish through such clouded thinking with an angled bat held limply outside off stump to Boult that he is fortunate not to collect an edge. A similar shot later in the over catches the splice but is always heading down.
6th over: Australia 16-2 (Smith 1, Labuschagne 0) A disappointing end to Finch's final ODI innings, but an excellent piece of bowling. Australia again making a meal of their start.
WICKET! Finch b Southee 5 (Australia 16-2)
The Cairns crowd stands as one to applaud Aaron Finch as he walks from the crease for one final time in Australian ODI gold after being clean bowled through the gate by Tim Southee. The drive was optimistic but the ball seeded in, beating the inside edge and clattering the stumps.
5th over: Australia 14-1 (Finch 4, Smith 0) The ball just wasn't there for that shot from Inglis, and it went from a miss-timed stoke to a wicket-taker courtesy of that little jag in to the right-hander off the pitch. Super bowling.
WICKET! Inglis c Latham b Boult 10 (Australia 14-1)
Inglis rotates the strike nicely with another glide to third-man, Finch then asserts himself, stepping out to meet Boult on the half-volley and forward pressing the ball for three through the covers. Boult is unperturbed, getting a slower ball to come back in a fraction off the pitch to Inglis, the opener repeats his strike-rotating glide but this time can only nick into Latham's safe gloves.
4th over: Australia 10-0 (Inglis 9, Finch 1) Southee starts another over short and wide and this time Inglis does crack it away for four through point. Oh boy – the replay is not pretty for Glenn Philips. I say "through point" for four and that is almost literally what happened. Philips DROPS a regulation chance to his right hip that he picks up late and barely gets a fingertip to. Bad miss early on from the Black Caps.
Southee completes the over with a huge shout for LBW. declined on-field but REVIEWED by Williamson. In real-time that looked and sounded like an inside-edge. Shows what I know, massive gap between bat and on the replay – but DRS saves Finch with the animation indicating the ball was tracking a few millimetres above the leg stump.
3rd over: Australia 5-0 (Inglis 4, Finch 1) Finch tips and runs into the on-side to get off the mark in his final innings. But it's one of only two runs in the over as Boult settles into a beautiful line and length, shaping one back in that almost sneaks through Inglis' gate, then slanting another across past the outside edge.
2nd over: Australia 3-0 (Inglis 3, Finch 0) Southee opens with old mate Boult, but he begins short and wide and it takes a great diving stop from point to prevent a boundary. Southee remains back of a length and Inglis is watchful until he flicks a couple away off his pads. Gentle loosening over from the big right-arm swing bowler.
1st over: Australia 1-0 (Inglis 1, Finch 0) Boult is on the money targeting the top of off for three deliveries, the third of which Inglis guides to third man to get the scoreboard ticking over. Boult then straightens to Finch, targeting the front pad, and almost has an immediate LBW shout. The line reverts back to the top of off and Finch is uncomfortable defending from the crease, then EDGING just short of the solitary slip. Excellent start from the Kiwi quick.
Trent Boult has the new ball. He's charging in to hurl the ball over the wicket to the right-handed Josh Inglis…
Finch gets a big hug from former housemate Maxwell as he pops on his helmet and skips across the boundary rope for the final time in ODI cricket. As he nears the square the Black Caps are waiting in a guard of honor and Williamson steps out to shake his opposite number warmly by the hand.
Out strides Aaron Finch, leading the Australian XI onto the field for the final time in 50-over cricket. Both teams take the oval and stand by the boundary for a minute's silence in honor of the late Queen Elizabeth II.
It's 30 degrees, bright and sunny in Cairns with a southerly breeze taking the edge off the sun's intensity.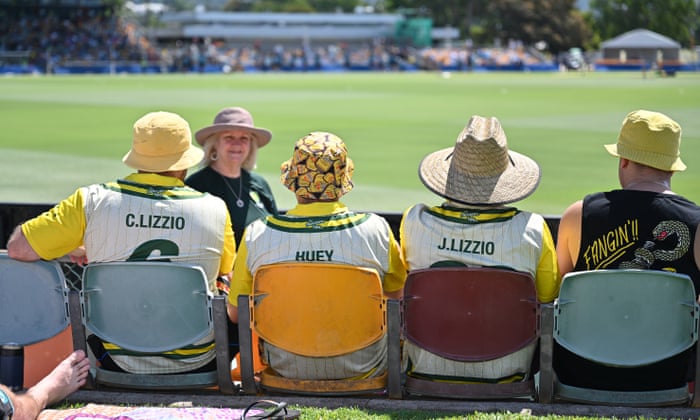 There was a bit of men's international cricket overnight, and quite a lot happened, fast.
Here's the big question facing Australia's board in the coming days. I
s Smith worth the hassle that will accompany his appointment? I'd go for Maxy.
In other white ball news, a couple of Australians are in demand.
Kerry O'Keeffe nails it on Finch: "he played for his team and his team played for him."
"Very comfortable," says Finch about his decision to walk away from 50-over cricket. "It's the right time for someone else to take the team in a new direction."
Three changes for the visitors with Allen coming in for Guptill, Philips for Bracewell, and Ferguson for Henry.
Two changes for the hosts with Inglis replacing Warner and Green returning in place of Stoinis.
New Zealand: 1 Finn Allen, 2 Devon Conway, 3 Kane Williamson (capt), 4 Tom Latham (wk), 5 Daryl Mitchell, 6 Glenn Philips, 7 Jimmy Neesham, 8 Mitchell Santner, 9 Lockie Ferguson, 10 Tim Southee, 11 Trent Boult
Australia: 1 Aaron Finch (capt), 2 Josh Inglis, 3 Steven Smith, 4 Marnus Labuschange, 5 Alex Carey (wk), 6 Cameron Green, 7 Glenn Maxwell, 8 Sean Abbott, 9 Mitchell Starc, 10 Adam Zampa, 11 Josh Hazlewood
New Zealand win the toss and will bowl first
Kane Williamson isn't overly decisive with his call but he wants to see how the pitch plays before his side has a bat on it. Aaron Finch says he was glad to lose his final toss as skipper.
preamble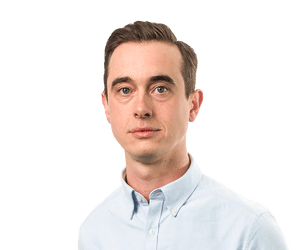 Jonathan Howcroft
Hello everybody and welcome to live over-by-over coverage of the conclusion of the Chappell-Hadlee series in Cairns. We'll be underway at Cazalys Stadium around 2:20pm AEST/4:20pm NZST.
As far as marquee bilateral series go, this is one has been about as off broadway as you can get. Played out in the boondocks while there's still frost in Victoria, isolated on pay TV and at the business end of the footy seasons. And the small matter of some other news dominating the front pages.
You'd be forgiven for not knowing this series was even underway, let alone all over bar the shouting with Australia two up with one to play.
But the deadest of dead rubbers was reanimated when Australia captain Aaron Finch announced he was retiring from One-day international cricket. If nothing else, today is an opportunity to salute a man who deserves his place from him towards the top end of Australian white-ball cricketers. He bludgeoned record-breaking scores from the top of the order, led with aplomb during a period of instability, and exuded an air of casual calm through his gum-chewing and easy smile from him. A fine servant.
If you have anything to add to today's proceedings, you know the drill. Emails go here or tweet @JPHowcroft. Send me your fondest Finch memories and I'll sprinkle them throughout the call.