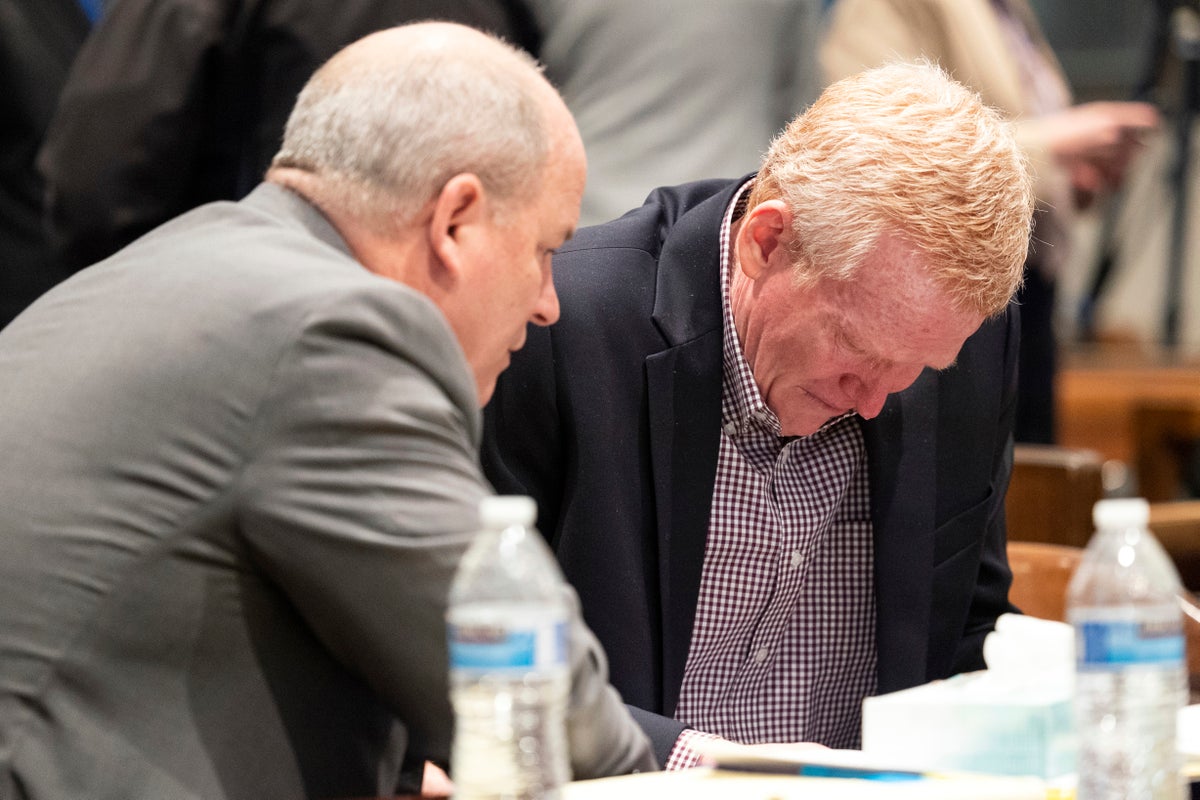 Disgraced attorney Alex Murdaugh broke down in tears as his lawyer described how his son and wife were "butchered" on the family's South Carolina hunting estate.
Mr Murdaugh wiped tears from his eyes as his defense attorney described the scene he claims his client found near kennels on the estate and denied that he had anything to do with it.
Dick Harpootlian told the jury that the prosecution's explanation for the murders was just "theories" and "conjecture" and that Mr Murdaugh was a "loving" husband and father.
And he also suggested in his opening statement in the high-profile murder trial that two gunmen may have been responsible for the June 2021 killings, which he insisted Mr Murdaugh had nothing to do with.
"Alex was the loving father of Paul, and the loving husband of Maggie. You are not going to hear a single witness say that Maggie and Alex had a relationship that was anything other than loving," he said.
"Paul, the apple of his eye. You are going to see a video from the night of the murders of Paul and Alex riding around looking at trees they planted, a Snapchat sent to other people. They were laughing, having a good time."
Mr Harpootlian then graphically described the killings for the jury, which caused Mr Murdaugh to grow emotional as the lawyer said his son's head had exploded "like a watermelon hit with a sledgehammer."
"Horrendous, horrible, butchering. To find Alex Murdaugh guilty of murdering his son you are going to have to accept that within an hour of having an extraordinary bonding with him that he executes him in a brutal fashion… not believable."
The defense attorney then told the court that investigators had decided straight away that Mr Murdaugh was guilty of the killings.
"They decided that night he did it without forensics, cellphones, they have been pounding that round peg into a square hole since June 2021," he said.
"There is no eye witness, no forensics tying him to the murder or shooting anyone that night. The cellphone records indicate he would have less than 10 minutes to kill them, get up to the house, get in the car and crank it up and be covered in blood."
Mr Harpootlian then suggested that there may have been more than one killer at the scene that night.
"The question is one shooter or two? A shotgun and an AR. What was Maggie running from? Was there enough time to kill Paul and then find the AR and ambush Maggie? Much more likely there were two people," he said.
Prosecutors have alleged in court filings leading up to the trial that Mr Murdaugh killed his wife and son to distract attention from the scandals that were engulfing him and that his alleged financial crimes were "about to come to light."
Mr Murdaugh has pleaded not guilty to two counts of murder and two counts of possession of a weapon during the commission of a violent crime.
South Carolina Attorney General Alan Wilson announced last month that prosecutors would not seek the death penalty but life in prison without parole if Murdaugh is convicted.
In addition to the murder charges, Mr Murdaugh faces 99 charges stemming from 19 grand jury indictments for various crimes, including allegedly defrauding clients and his former law firm of nearly $9m.