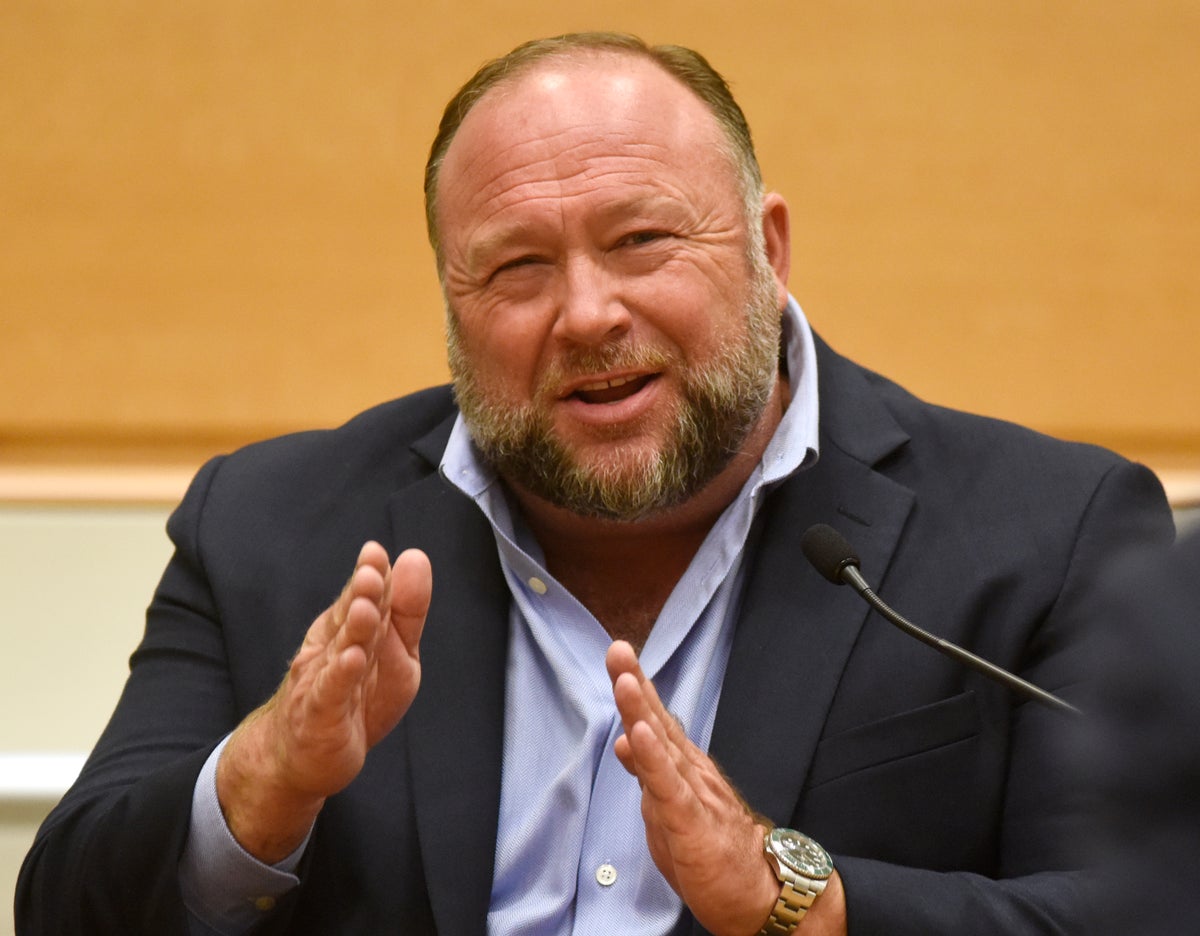 Alex Jones unleashes rant as Sandy Hook lawyer points out victims' families in court
Alex Jones's second defamation trial over his "hoax" lies about the Sandy Hook massacre has entered its third week in Connecticut court.
The jury is hearing emotional testimony from family members after a tense conclusion to last week's proceedings, when the Infowars host delayed his return to the witness box following a rant at reporters outside the courthouse.
His own defense attorneys waived their right to cross-examine him on Friday, and he is now expected to summarize testimony as a witness for his defense next week after the judge decided against punishing him for urging jurors to do their own research.
Testifying last week, Jones shouted that he was "done apologizing" for his egregious claims about the shooting under questioning from the plaintiffs' lawyer while families of victims broke down in tears in the courtroom.
Taking the witness stand on Wednesday were: William Sherlach, whose wife was the school psychologist and died trying to stop the shooter; Alissa Parker, who described how threats stemming from the conspiracy theories followed her family across the country; and Robbie Parker, who found himself the target of hoax accusations the day after his daughter was murdered.
1664403316
Jurors must decide how much Newtown families suffering worth
After watching days of testimony that included the parents of slain children breaking down on the witness stand, a Connecticut jury soon will have the difficult task of coming up with a dollar amount that conspiracy theorist Alex Jones should pay for promoting the idea that the Sandy Hook school shooting was a hoax.
Jurors must decide how much Newtown families suffering worth
A Connecticut jury soon will have the difficult task of coming up with a dollar amount conspiracy theorist Alex Jones should pay for promoting the idea that the Sandy Hook school shooting was a hoax
Oliver O'Connell28 September 2022 23:15
1664399956
Sandy Hook father fights tears recalling press event that made him top target for hoax lies
The grieving father of a victim of the Sandy Hook shooting has broken his silence about the 2012 press conference that made him the top target for Alex Jones' lies about the massacre.
Robbie Parker's six-year-old daughter Emilie was one of the 26 students and staff members murdered in the mass shooting at Sandy Hook Elementary School on 14 December 2012.
One day after the massacre, the devastated father gave a brief speech to the media where he paid tribute to his little girl who "made the world a better place" for being in it.
Rachel Sharp reports on her testimony.
Sandy Hook father recalls press briefing that made him top target of Alex Jones' lies
Robbie Parker told the court that he had been waiting to set the record straight 'for a long time'
Oliver O'Connell28 September 2022 22:19
1664398165
Judge Bellis adjourns the court for the day.
Proceedings will resume at 10am on Thursday for a half-day session.
Oliver O'Connell28 September 2022 21:49
1664398100
Funeral planning ended up becoming dominated by contingency plans for if hoaxers showed up, or how to deal with the media and what people should be to see.
At one point he couldn't find his wife. Alissa was hiding in a coat closet, curled up in a ball, sobbing: "I don't know if I can do this."
Oliver O'Connell28 September 2022 21:48
1664397875
Mr Parker recalls that by the Tuesday after the shooting this daughter's memorial page had become flooded with negative comments.
"What was just this littering of comments by Tuesday became just a burning trash pile," he testified. He clicked on some of the links to figure out what was going on. During this time he saw Jones's videos of her.
Infowars published a story headlined: "Father of Sandy Hook Victims Asks 'Read The Card?' Seconds Before Tear-Jerking Press Conference."
This all occurred before Emilie's funeral.
Oliver O'Connell28 September 2022 21:44
1664397392
Just hours after he gave the statement and less than 48 hours after the murder of his daughter, Mr Parker went online to see what nice comments friends and family had posted on the Facebook page.
Instead, he was met with a barrage of harassment and links to pictures of him smiling at the press conference.
"That really threw me off. I was looking for something to keep me stable because my compass was spinning, I didn't know which way was what, and seeing these comments broke that connection I had, that stability. "
Oliver O'Connell28 September 2022 21:36
1664397273
In another piece of footage from Infowars, director Rob Dew is seen saying that Mr Parker looked like he was "getting into character". That clip was broadcast two years after the tragedy,
Oliver O'Connell28 September 2022 21:34
1664397041
Mr Parker is asked about the smile.
He says when he tries to relax or try to calm down, he smiles or chuckles to himself. As he walked up to the podium his father his joked: "Go get 'em Oggy," referencing the name of the mascot he used to play that had become his nickname. He said it was a dad, making a dad joke.
Mr Parker is asked whether he knew that Alex Jones has replayed the smile on numerous occasions. He said he did know.
It is this footage that Jones said he thought was fake and he called him an actor, setting off the conspiracy that the entire incident was faked.
In footage from Jones's deposition he quibbles as to whether he called him an actor or said it "looked like he was acting".
Oliver O'Connell28 September 2022 21:30
1664396627
Mr Parker was earlier remembered about the photos the jury saw and asked if he who Alex Jones was prior to the incident.
He is then asked about the speech he made outside their church and prompted to tell the story in his own words.
Mr Parker asked a friend to set it up as he wanted to honor his daughter and believed there would be just one reporter as he couldn't believe anyone beyond their community in Utah would want to know what he had to say. He thought a taped statement would mean that his words would not be misconstrued.
As the court heard from Alissa, there was a huge media presence broadcasting live. He recalls being shielded by the lights and he wanted someone to tell him what to do.
The court is played a video of the moment Mr Parker came out to speak.
In the footage from CNN, Mr Parker smiles as he emerges from the church to give his statement. The smile is a foundational part of Sandy Hook conspiracy theories.
Oliver O'Connell28 September 2022 21:23
1664396045
There was a technical issue that has now been resolved, so we will hear more from Mr Parker.
Attorney Chris Mattei asks him about the morning of 14 December 2012.
He recalls an automated voicemail and an immediate call from his wife, Alissa. They both tried to find out more information before they determined what to do next.
The suggestion was to follow advice not to go to the school but Alissa instead went to the firehouse. There another mother took the two other girls from Alissa and she stayed at the firehouse.
Mr Parker was eventually allowed to leave his locked-down hospital and advised to go and be with his wife.
Oliver O'Connell28 September 2022 21:14